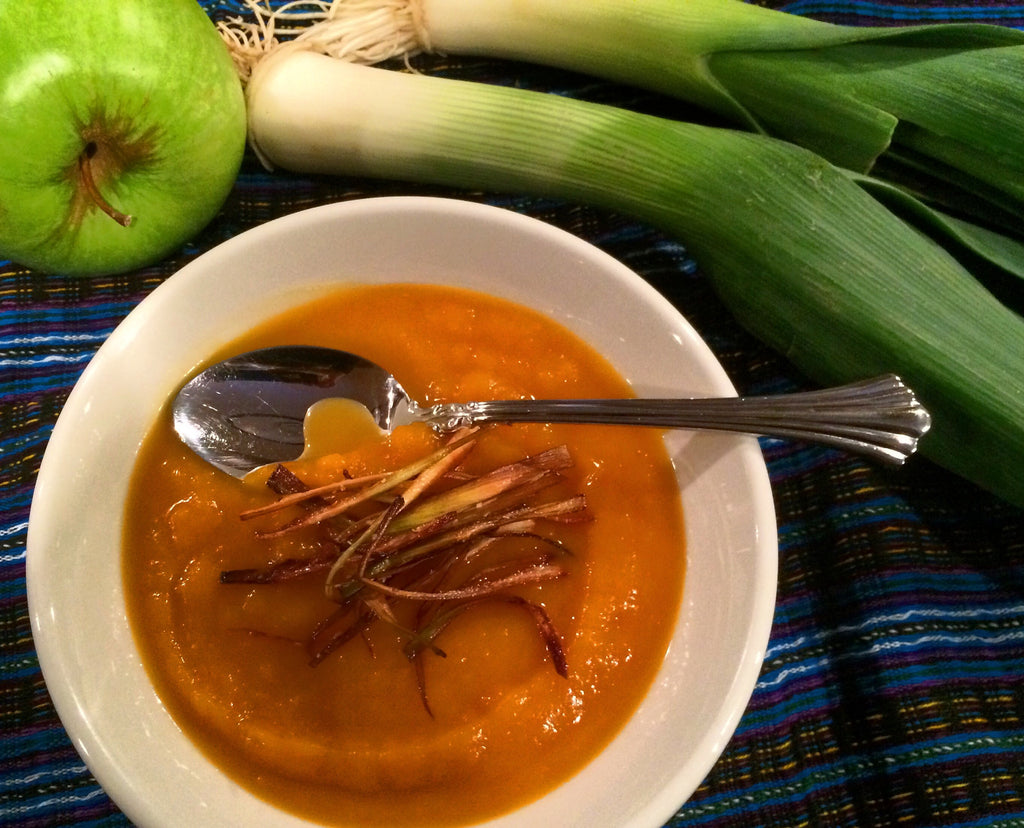 This soup can be as simple as, roasting the butternut squash as described below, putting it in a pot with the bone broth, water, and seasonings; bringing to a boil, blend and enjoy.
OR use all the ingredients listed for a more complex flavored, richer, creamier soup. Perfect meal for a cold winter night.
Preheat oven to 375 (convection Roast if your oven has it)
Ingredients:
2½ cups BrothMasters bone broth
4 pounds whole butternut squash (about 2 medium), halved lengthwise and seeds removed
2 tablespoons unsalted butter (¼ stick)
2 tablespoons cury
1 medium Granny Smith apple (about 8 ounces) chopped
½ medium yellow onion chopped
2 cups water
1½ teaspoons kosher salt, (optional)
¼ teaspoon freshly ground black pepper, plus more as needed or cayenne pepper to taste
1 can organic coconut milk (optional)
Instructions
Garnish with crispy leeks (julienne white part of leak and put in hot oil for about 1 min. and then sprinkle with kosher salt) or ½ cup toasted pumpkin seeds, for garnish (optional).
Place the squash on its side and cut off the ends. Then at the neck, slice it in half, stand it on the now flat end, and cut both pieces in half lengthwise; remove the seeds. Drizzle a little olive oil on a half sheet pan, place squash flesh side down in the pan, roast until soft and slightly caramelized.
While the butternut squash is roasting, sauté the onion and apple in the butter until soft, add curry and saute one more minute. If you don't want to use butter, soften them in the 2½ cups of water. Scrape the roasted flesh from the skin, add to the pot along with the broth with pepper. Heat to a boil, then purée using an emersion blender. Finally, enrich the soup with a bit of heavy cream if desired. Salt to taste. Garnish and Enjoy!
Make-ahead note: Cool the finished soup to room temperature, cover and refrigerate for up to 3 days, or put in the freezer up to 1 month.