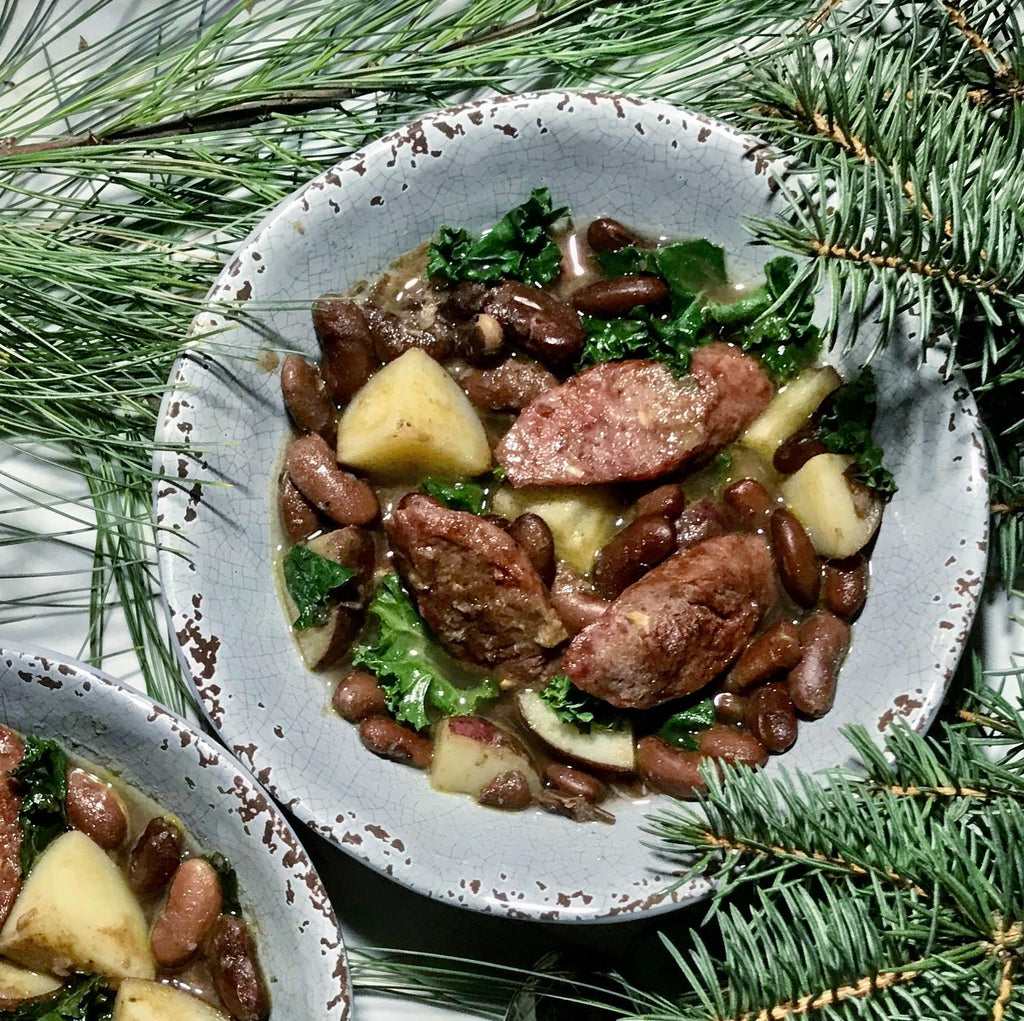 This rich, hearty, yet light soup is soul-warming. We love to serve it for a group and and eat it sitting around the fireplace.
This recipe is adapted from the original recipe, here.
Ingredients
1 pound kielbasa, sliced 1/4-inch thick, on the bias
Vegetable oil, as needed
8 cloves garlic, minced
1 pound dried red kidney beans, soaked for at least 4 hours or overnight
2 quarts (64 oz. = 4 pouches) BrothMasters Bone Broth 
1 pound red potatoes, cut into 1/2-inch cubes
6 ounces fresh kale, washed, rinsed and torn into 1-inch pieces
1/4 cup red wine vinegar
1/2 teaspoon black pepper, freshly ground
Salt to Taste
Directions
Brown the kielbasa in a 7-quart Dutch oven and set over medium-low heat until it has rendered most of its fat, about 15 minutes.
Remove the kielbasa from the pot and set aside. If you do not have at least 2 teaspoons of fat, add enough vegetable oil to make 2 teaspoons.
Cook the garlic in the fat for 1 to 2 minutes, stirring constantly to prevent the garlic from burning.
Add the beans and the BrothMasters Bone Broth and cook, covered, for 45 minutes.
After 45 minutes, stir in the potatoes, cover and cook for 15 minutes, stirring occasionally.
Toss the kale into the pot, cover and cook for an additional 10 minutes, or just until it is tender, but not mushy.
Sprinkle with the vinegar and pepper and stir to combine. Return the kielbasa to the pot and cook just until heated through.
Taste and adjust seasoning. Serve hot.