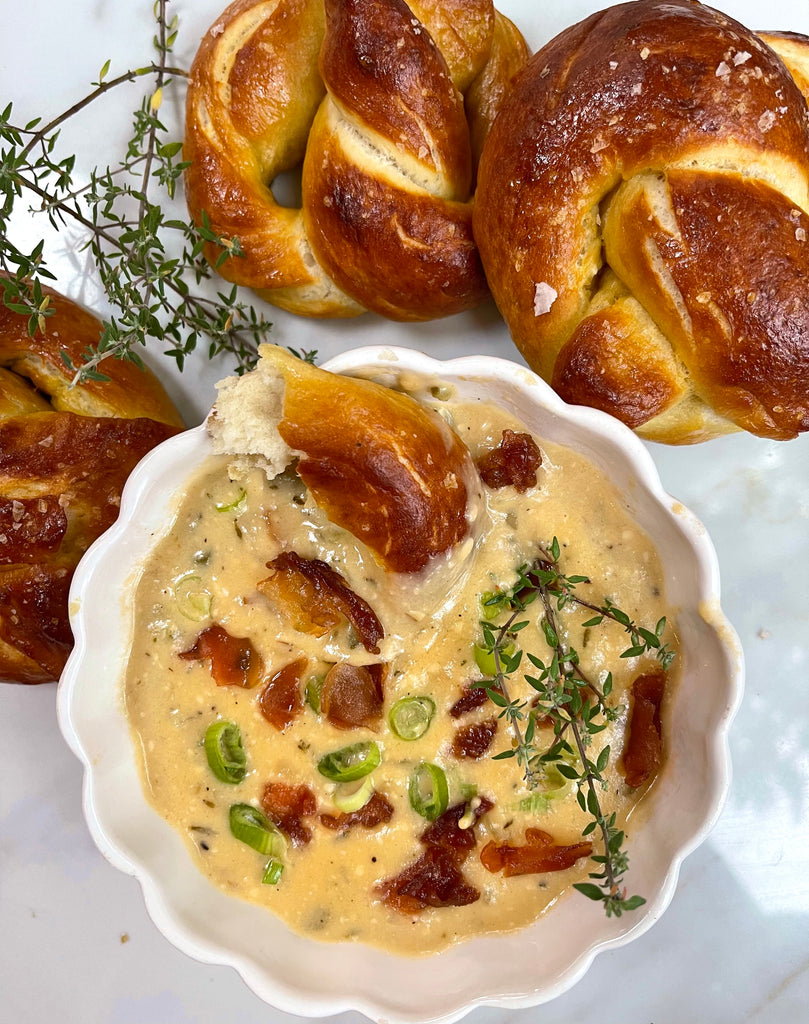 Fall, cool weather, and football, call for comfort foods; warm, hearty, cozy. Add more broth to thin this soup or leave it thick and cheesy to eat as a dip with these amazing easy to make pretzels. With or without the bacon, this soup is sooo good!
Ingredients (soup):

1/2 pound piece of slab bacon, sliced 1/3" thick and cut into 1/3-inch dice
1 celery rib, finely chopped
1 small onion, finely chopped
1 large jalapeño, seeded and chopped
2 large garlic cloves, minced
1 tablespoon chopped thyme
1 12-ounce bottle lager or pilsner
4 tablespoons unsalted butter
1/4 cup all-purpose flour
1 cup heavy cream
1/2 pound sharp yellow cheddar cheese, coarsely shredded
4 ounces smoked gouda cheese, coarsely shredded
Salt and freshly ground pepper
Garnish with homemade soft pretzel
Directions (soup):
In a large saucepan, cook the bacon (if you're using it) over moderate heat until the fat is rendered and the bacon is crisp, 7 minutes. Using a slotted spoon, transfer the bacon to a bowl.
Melt 2 tablespoons butter, then add the celery, onion, jalapeño, garlic and thyme to the saucepan and cook over moderate heat, stirring occasionally, until softened, about 10 minutes.
Add half of the beer and cook until reduced by half, 5 minutes. Then add 2 1/4 cups of chicken broth and bring to a simmer.
In a small skillet, melt 4 tablespoons butter. Add the flour and cook over moderate heat, stirring, until lightly browned, about 2 minutes. Whisk this roux into the soup until incorporated and bring to a simmer. Cook until thickened, about 8 minutes.
Add the heavy cream, cheddar cheeses and the remaining beer and simmer, stirring occasionally, until thick and creamy, about 5 minutes. If using bacon reserve some to garnish, stir in the rest and season with salt and pepper. Add a few tablespoons of broth if the soup is too thick. Serve the soup with soft pretzels or garlic toast.
Make Ahead Option: the cheddar soup can be refrigerated overnight. Rewarm gently and thin with additional broth.
Ingredients (Alton Brown Homemade Soft Pretzels):

1 1/2 cups warm (110 to 115 degrees F) water
1 Tablespoon sugar
2 teaspoons kosher salt
1 package active dry yeast
22 ounces all-purpose flour (~4 1/2 cups)
2 ounces unsalted butter, melted
Vegetable oil, for pan
10 cups water
2/3 cup baking soda
1 large egg yolk beaten with 1 tablespoon water
Pretzel salt
Directions (Alton Brown Homemade Soft Pretzels):
Combine the water, sugar and kosher salt in the bowl of a stand mixer and sprinkle the yeast on top. Allow to sit for 5 minutes or until the mixture begins to foam.
Add the flour and butter and, using the dough hook attachment, mix on low speed until well combined. Change to medium speed and knead until the dough is smooth and pulls away from the side of the bowl, approximately 4 to 5 minutes.
Remove the dough from the bowl, clean the bowl and then oil it well with vegetable oil. Return the dough to the bowl, cover with plastic wrap and sit in a warm place for approximately 50 to 55 minutes or until the dough has doubled in size.
Preheat the oven to 450 degrees F. Line 2 half-sheet pans with parchment paper and lightly brush with the vegetable oil. Set aside.
Bring the 10 cups of water and the baking soda to a rolling boil in an 8-quart saucepan or roasting pan. In the meantime, turn the dough out onto a lightly-oiled work surface and divide into 8 equal pieces.
Roll out each piece of dough into a 24-inch rope. Make a U-shape with the rope, holding the ends of the rope, cross them over each other and press onto the bottom of the U in order to form the shape of a pretzel.
Place onto the parchment-lined half sheet pan. Place the pretzels into the boiling water, 1 by 1, for 30 seconds. Remove them from the water using a large flat spatula. Return to the half sheet pan, brush the top of each pretzel with the beaten egg yolk and water mixture and sprinkle with the pretzel salt.
Bake until dark golden brown in color, approximately 12 to 14 minutes. Transfer to a cooling rack for at least 5 minutes before serving.