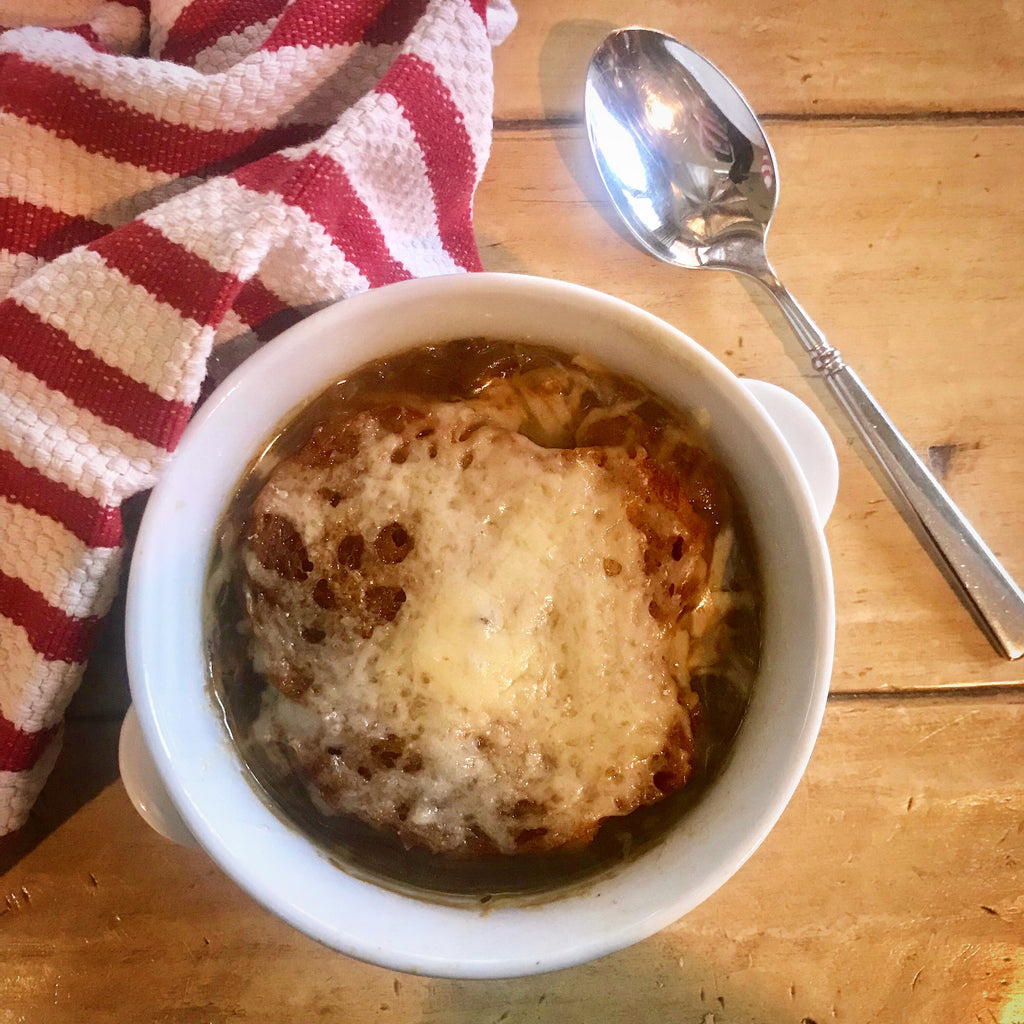 This tasty classic gets an added dose of flavor and nutrition by adding Broth Masters bone broth. A meal on its own, or the perfect first course to a leisurely meal. 
Ingredients
4 tablespoons unsalted butter
2 tablespoons olive oil
4 large onions, very thinly, sliced
1 tablespoon fresh thyme, chopped
2 leeks trimmed, halved lengthwise and thinly sliced crosswise
Salt and freshly ground black pepper
1-ounce dried porcini mushrooms
1 cup white wine
2 quarts Broth Masters Bone Broth
2 bay leaves
8 (1/2-inch) thick slices baguette
1 large clove garlic, peeled and halved
1 1/2 cups grated Gruyere cheese
1/2 cup grated Parmigiano-Reggiano cheese
Directions
Bring a small saucepan with about 2 1/2 cups water to a boil over high and place mushrooms in 2-cup glass measuring cup. Pour boiling water over the mushrooms to fill the cup (a little less than 2 cups) and set aside.

Heat a large Dutch oven over medium heat. Add 4 tablespoons of the butter and 2 tablespoons olive oil, let it melt. Stir in the onions. Cover and cook, stirring occasionally, until wilted, about 15 minutes. Add leeks, turn heat up to medium-high, season with salt and pepper.

Uncover and cook about another 30 minutes, until the onions caramelize.

Add the wine to the pot with the onions, to deglaze the pan. Remove the mushrooms from their broth with a slotted spoon to a cutting board. Chop them, and add them to the onions. Add all but the last 1/2 cup of the mushroom liquid to the soup, about 1 cup. Add the Broth Masters Bone Broth to the pot and simmer the soup for 30 to 45 minutes.

Add salt and pepper to taste. At this time you can cool and refrigerate for a make-ahead meal. Reheat over medium heat, covered, and prepare the croutons when ready to serve.

Heat the oven to 425 degrees F. Toast the bread on a rack over a baking sheet, until deep golden brown. Arrange toasts on top of crocks of soup, put on baking sheet, sprinkle with the Gruyère and Parmesan  and bake until cheese is melted and beginning to brown.