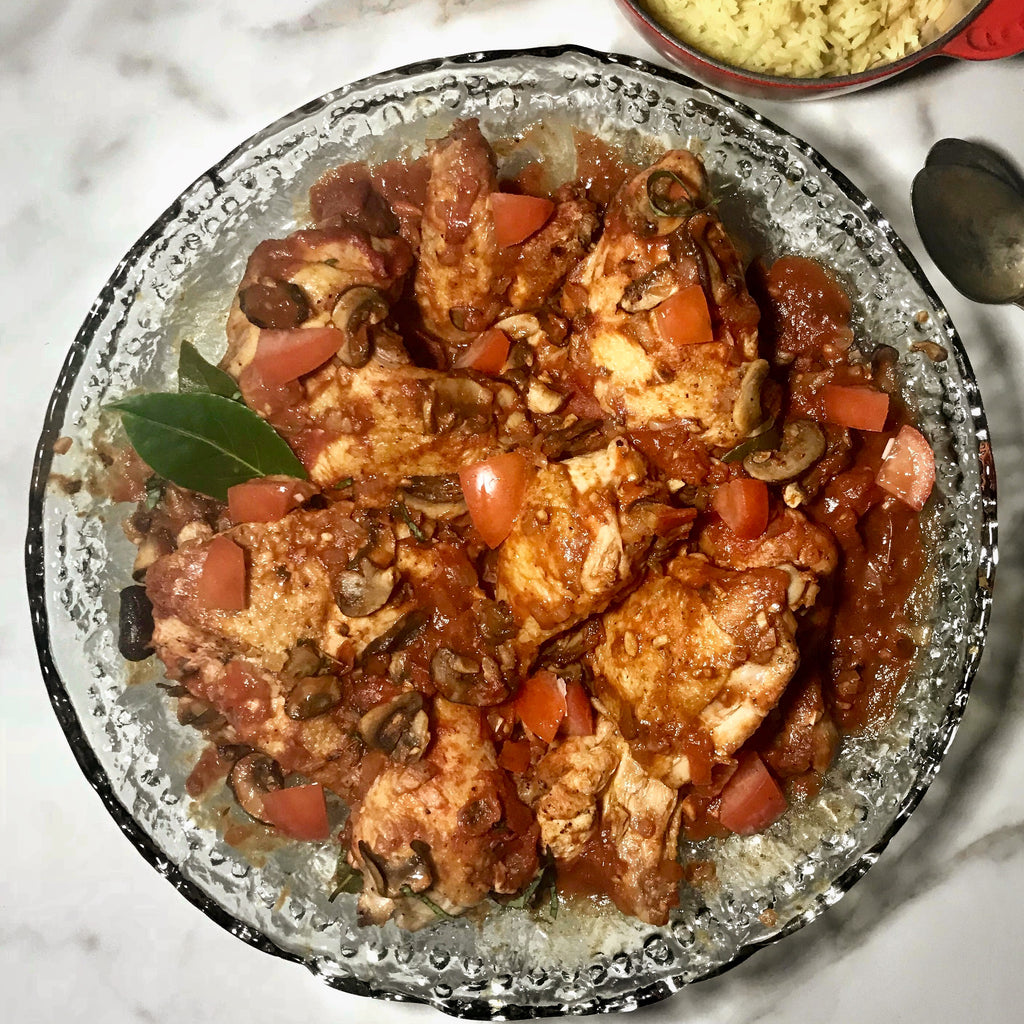 Adapted from The New York Times, this popular recipe is flavorful, easy to make, and a wonderful way to include the new Chicken Bone Broth into your diet. Perfect for welcoming spring.
Ingredients
1 3-pound chicken cut into serving pieces
Salt to taste, if desired
Freshly ground pepper, to taste
2 tablespoons butter
2 tablespoons olive oil
1 ½ cups thinly sliced mushrooms (about 1/2 pound)
½ cup finely chopped onion
½ teaspoon finely minced garlic
1 bay leaf
2 sprigs fresh thyme or 1/2 teaspoon dried
½ cup dry white wine
2 cups cored and cubed red ripe tomatoes, or use canned tomatoes
¼ cup tomato paste
½ cup Broth Masters Bone Broth (New! Chicken)
2 sprigs fresh parsley

Preparation
Sprinkle the chicken with salt and pepper to taste.
Heat the butter and oil in a heavy skillet over medium-high heat. Add the chicken pieces skin-side down. Cook until golden brown on one side. Turn the pieces and cook on the other side about two minutes. Carefully pour off the fat from the skillet.
Scatter the mushrooms over the chicken. Stir to distribute. Add the onion, garlic, bay leaf and thyme and cook about 5 minutes.
Add the wine and scrape the bottom of the skillet with a wooden spoon to dissolve the brown particles that cling to the bottom of the pan. Add the tomatoes, tomato paste, chicken bone broth and parsley. Cover and cook 10 minutes. Then uncover for another 5 minutes. Serve with rice and a tossed green salad.




--
jackie
founder, sprout group