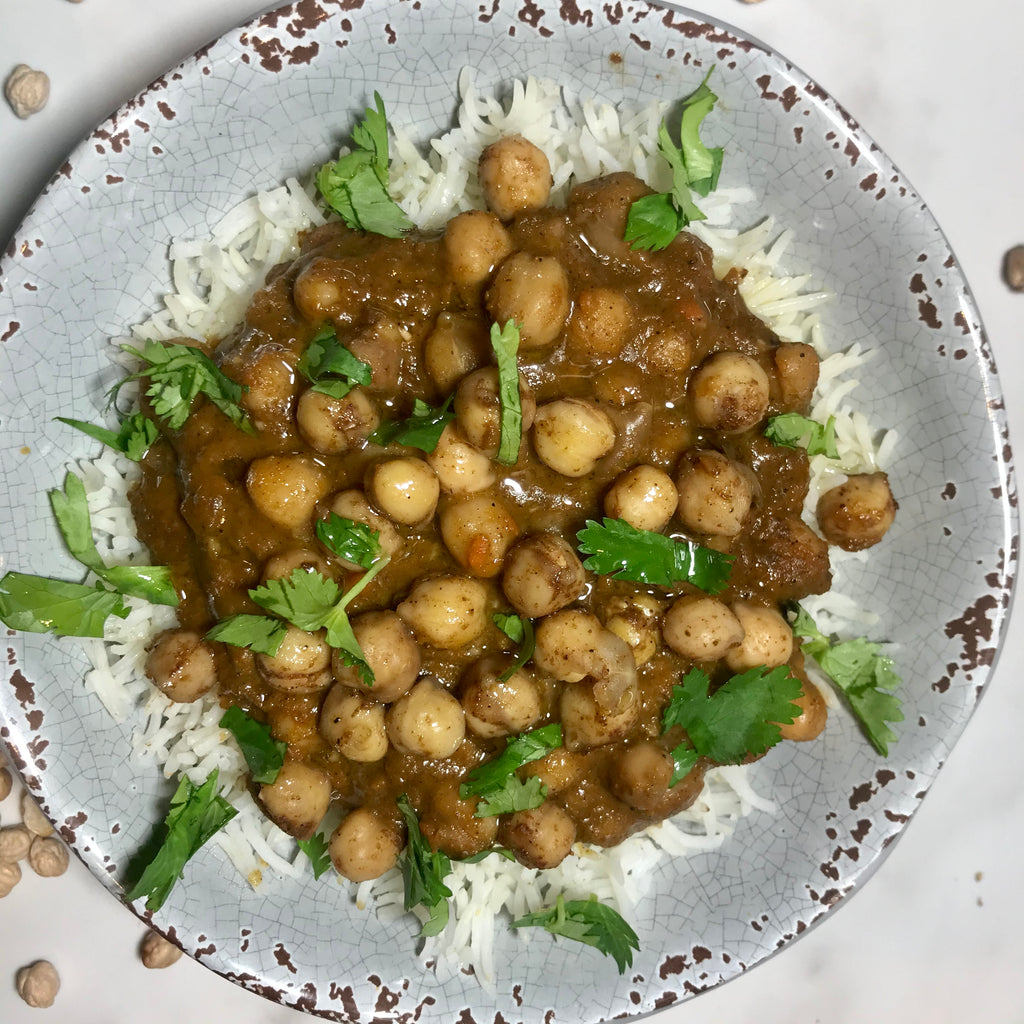 Fresh, hearty and OH so flavorful. Curry chickpeas with rice is the dish you've been waiting for. The bone broth adds extra nutrition and flavor.
Ingredients:

2 Tbsp canola oil
1 ½ medium onion (about 6 ounces), diced
1 finely chopped carrots
1 Tbsp finely grated ginger
5 large cloves garlic, finely chopped
1 cups Broth Masters Bone Broth
1 (15-ounce) can chickpeas, rinsed and drained
4 Tbsp garam masala
½ teaspoon salt, or to taste
Freshly ground black pepper, to taste
1 cup light coconut milk
2-3 Tbsp maple syrup or honey
1-2 Tbsp sriracha sauce (optional)
3/4 cup cooked white or brown rice
2 Tbsp chopped fresh cilantro or parsley
Naan for serving
Directions:
In a medium stockpot, heat the oil over medium heat. Once hot, add the onion, carrot, cook, stirring, until softened, about 5 minutes.
Add garlic and ginger, stirring constantly, 1 minute.
Add 2 ½ tbsp of the garam masala powder, salt, and black pepper; coat. Cook for about 2 minutes stirring constantly.
Pour in coconut milk, BrothMasters Bone Broth, sriracha (optional) and maple syrup or honey.
Bring to a boil then reduce the heat, cover and simmer gently, stirring occasionally, about 10 minutes.
Transfer the mixture into a blender and puree into a smooth creamy sauce.
Add a little ½ tbsp oil to the same pan and add chickpeas
Add 1 ½ tbsp of garam masala and a generous pinch of salt.
Cook about 4 minutes. Remove a ½ cup of chickpeas to garnish, add sauce to pan with remaining chickpeas cover and simmer for about 20-30 minutes.
Warm naan. Serve over rice, add reserved chickpeas and Cilantro or Parsley to garnish.