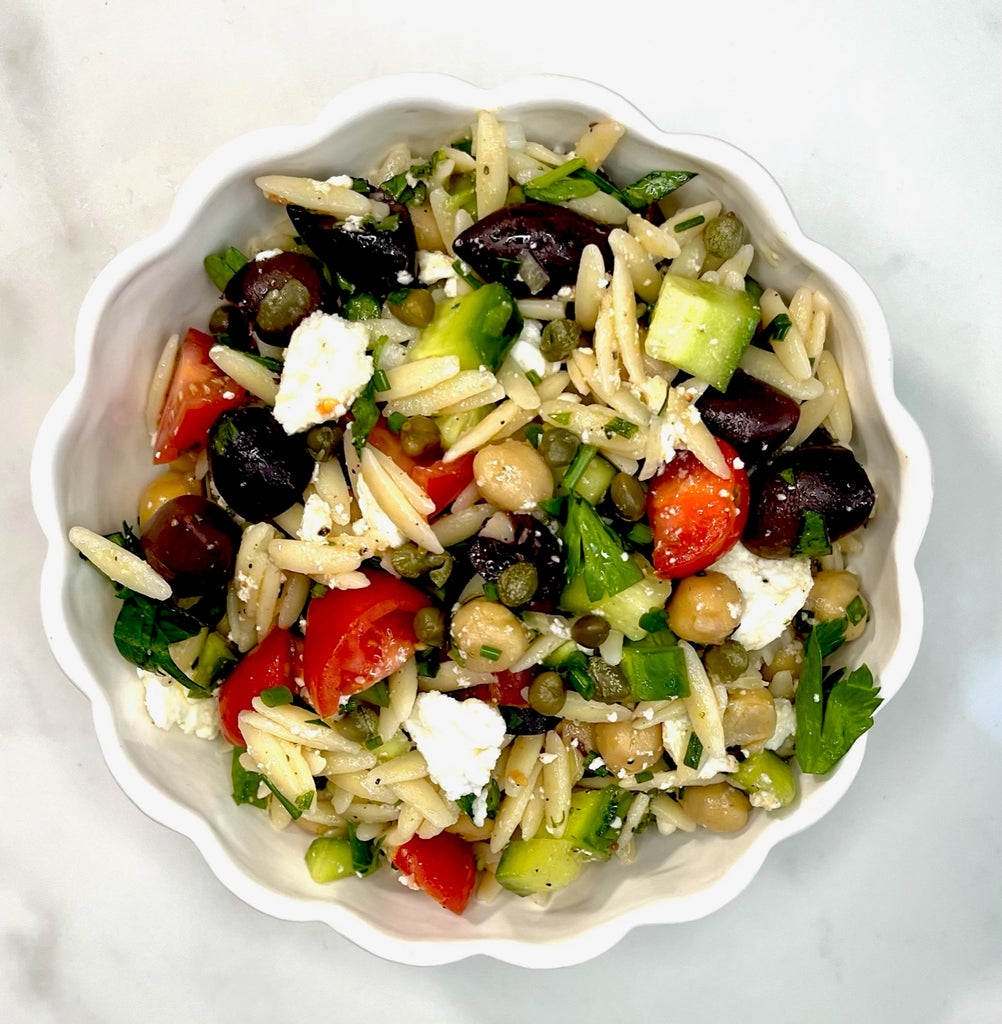 The perfect summer salad. Whether you're hosting or visiting, this refreshing orzo salad will be the "I'm going back for seconds" star of any BBQ. Our tip: make it a day ahead which enhances the flavors! 
Ingredients:
1 1/4 cup orzo cooked in BrothMasters Bone Broth - al dente
1 can garbanzo rinsed
1 1/2 cups kalamata olives stuffed with garlic (garlic stuffed optional)
1/2 cup red onion or chive, chopped
1 cup cherry tomatoes quartered
3/4 cup Persian bait alpha cucumbers (aka Lebanese) or English cucumbers, with skins, chopped
2 Tablespoons Italian parsley
3 Tablespoons chopped basil
1/8 cup small capers
1 cup Feta
Dressing
1/3 cup olive oil
Salt + pepper
1 minced garlic
1 teaspoon snipped fresh oregano (optional)
3 Tablespoons lemon juice
Directions:
Make dressing, put all ingredients into a small jar or dressing shaker. Shake until blended.
Place orzo in a pot, cover with BrothMasters Bone Broth.
Stir in 1/2 teaspoon salt, and bring to a boil. Cook 8-9 minutes or until slightly al dente. Drain, do not rinse, and toss with a little olive oil so that it doesn't stick together. Cool.
In a small bowl set aside a little of the cucumbers, tomatoes, and chickpeas to use to garnish.
In a large bowl, toss together the cooked orzo, cucumbers, tomatoes, chickpeas, red onion, capers and olives.
Drizzle the dressing over the salad, add half the herbs, season with freshly ground black pepper and toss to coat.
Add feta, gently mix it in so that it remains in little chunks. You don't want to over salt because of the feta, olives and capers, so salt to taste at the end.
Garnish with the remaining, the cucumber, tomatoes, chickpeas and herbs. Serve chilled or at room temperature.