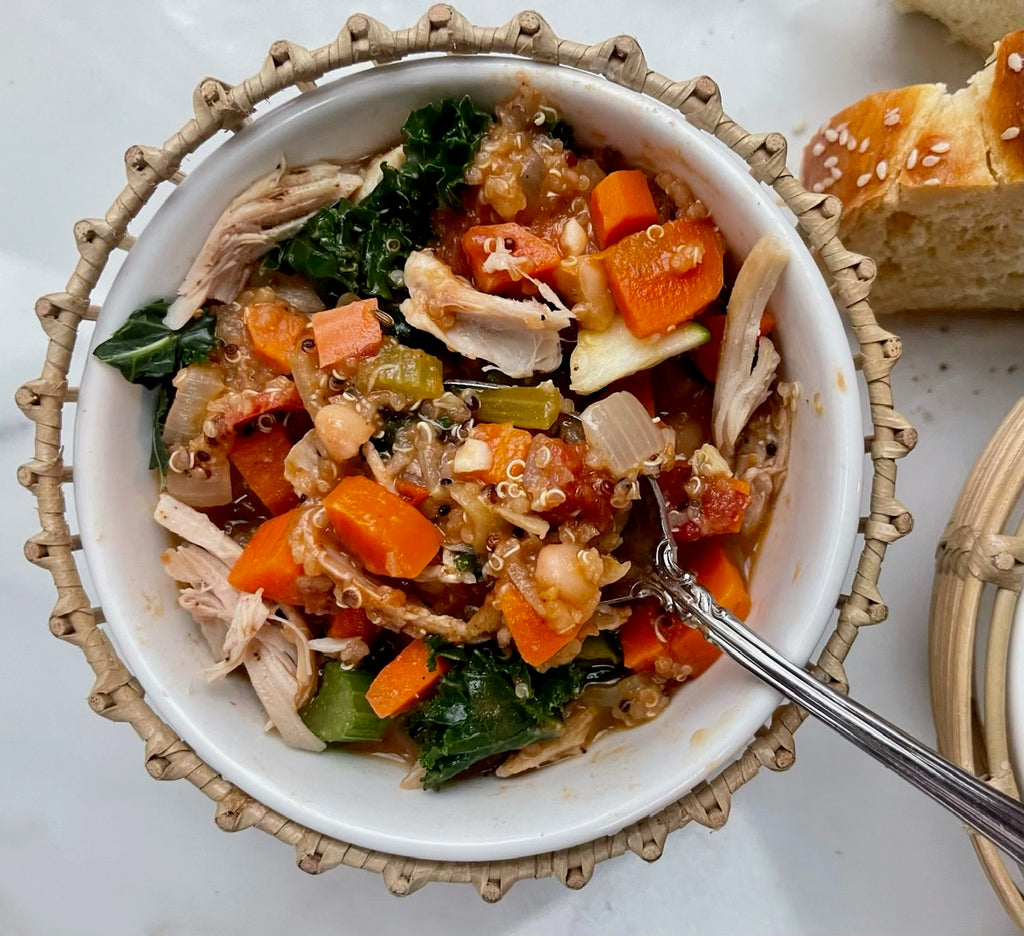 This is a perfect soup for cold winter nights.
It's warm, nutritious, and comforting; add the shredded chicken to this soup and it's a whole meal in one pot.
Prior to making the soup roast 2 chicken legs and thighs to shred and add to the finished soup before serving.
1 tablespoon olive oil 

1 onion, diced

2 large carrots, diced

2 large celery stalks, chopped 

1 ½ cup zucchinni cut into half moons

4 garlic cloves, minced

¼ cup tomato paste

 

pinch of red pepper flakes, optional

1 cup quinoa

1 cans (15 oz.) cannelloni

beans

, drained and rinsed

1 can (28 oz) diced tomatoes, with juices (fired roasted pref.)

 

1 1/2 teaspoons thyme

4 cups

 BrothMasters Bone Broth

2 cup water

1 package (5 oz.) baby kale

 

or 1 small bunch*

salt

& fresh cracked pepper

 

to taste
INSTRUCTIONS
In a large pot or dutch oven, heat oil over medium heat, add onion and saute for 5 minutes, until translucent. Add in garlic, celery, carrots, and herbs/spices, cook another 7-8 minutes or so. Add tomato paste cook another 1 minute.
Add in the quinoa, beans, tomatoes, and Brothmaster bone broth and water bring to a boil, cover, turn heat to low and simmer for 25 minutes. Add in kale, zucchini and shredded chicken, keep on low heat, stirring occasionally, until kale wilts (baby kale will wilt faster than a typical bunch of kale).
If soup is not eaten right away, it may thicken. Add additional water to thin the soup.
To serve:  Drizzle 1 or more tablespoons of olive oil. Pair with a slice of crusty bread, if desired, top of parmesan and add a squeeze of lemon for brightness. Serves 4 – 6.
.