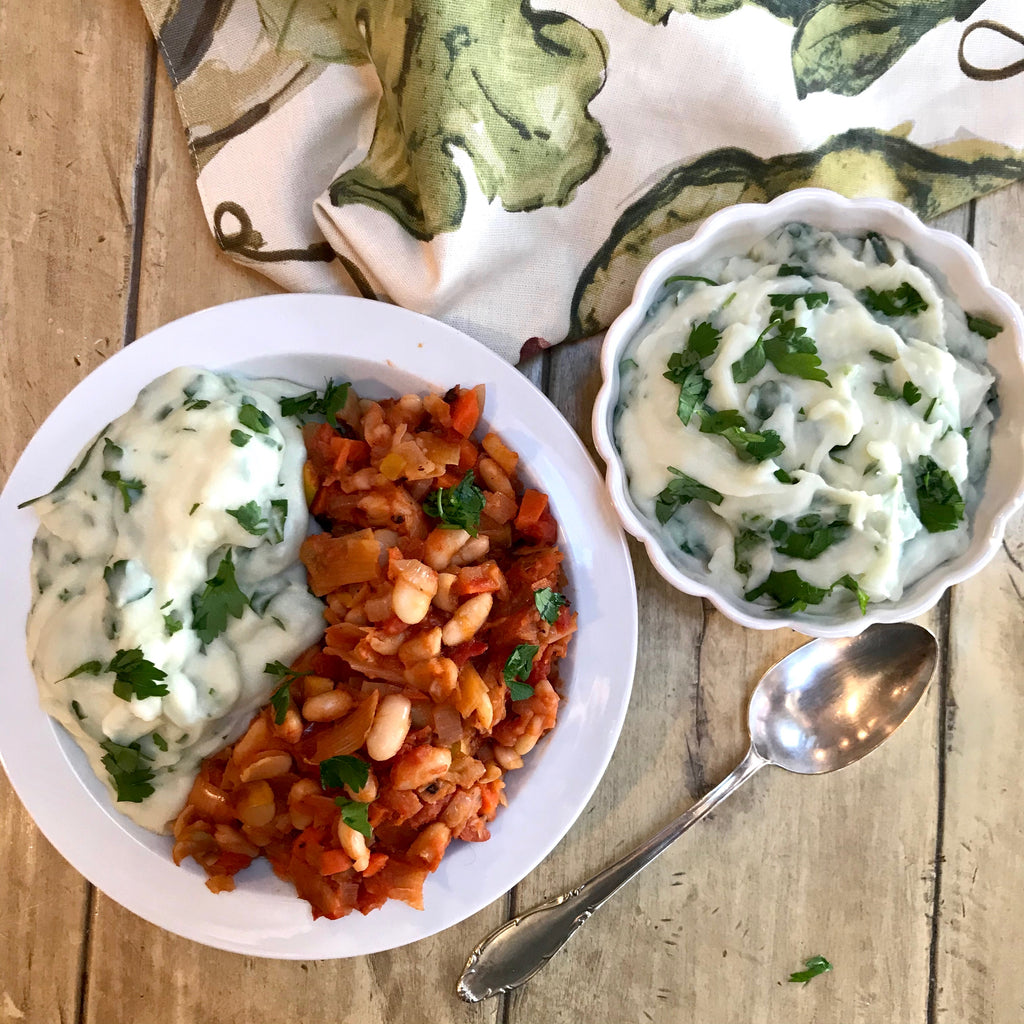 We love to make this white bean stew with this fresh root vegetable mash as part of our weekly meal prep. It's ideal to make a big batch on the weekend and enjoy throughout the week. Fresh, flavorful and modified easily to be vegetarian, or not. 
WHITE BEAN STEW
Ingredients:
1 tbsp oil
1 onion, finely chopped
1 garlic clove, finely chopped
1 large carrot, finely chopped
1 leek, chopped
2 tbsp tomato paste
2 14 oz. cans chopped tomatoes
1 14 oz. can butter beans, drained
2 14 oz. cans cannellini beans, rinsed and drained
¾ cup dry cider
1 cup BrothMasters Bone Broth
A few sprigs thyme, leaves only
2 sausages (optional)
1 tsp olive oil per portion
Directions:
Heat oil in a large pan and sauté the onion, garlic, carrot and leek until soft.
Add the tomato paste, chopped tomatoes, butter beans, cannellini beans, cider, BrothMasters Bone Broth, thyme and simmer for 15-20 mins until the stew has thickened and the vegetables are tender.
If you're adding sausages to any portion, snip each sausage into 3-4 chunks.
Heat the olive oil in a frying pan and brown the chunks for 5 mins, then stir in appropriate portions of the stew and gently simmer for the remaining cooking time. Serve with the mash.
POTATO, PARSNIP, PARSLEY MASH (3P MASH)
Ingredients:
2 lbs Yukon gold potatoes
4 parsnips 4 cups water
¾ cups sour cream
2 tbsp butter
¼ cup chopped parsley
Cheddar cheese (optional)
Directions:
Peel potatoes, and parsnips, cut into chunks, and boil in salted water for 15 mins or so until tender.
Drain, return to the pan and mash with sour cream, butter, grated cheddar and chopped parsley.
Season. If you like, put the mash in a heatproof dish, dot with butter and place under broiler for a few mins for a golden and crisp finish.