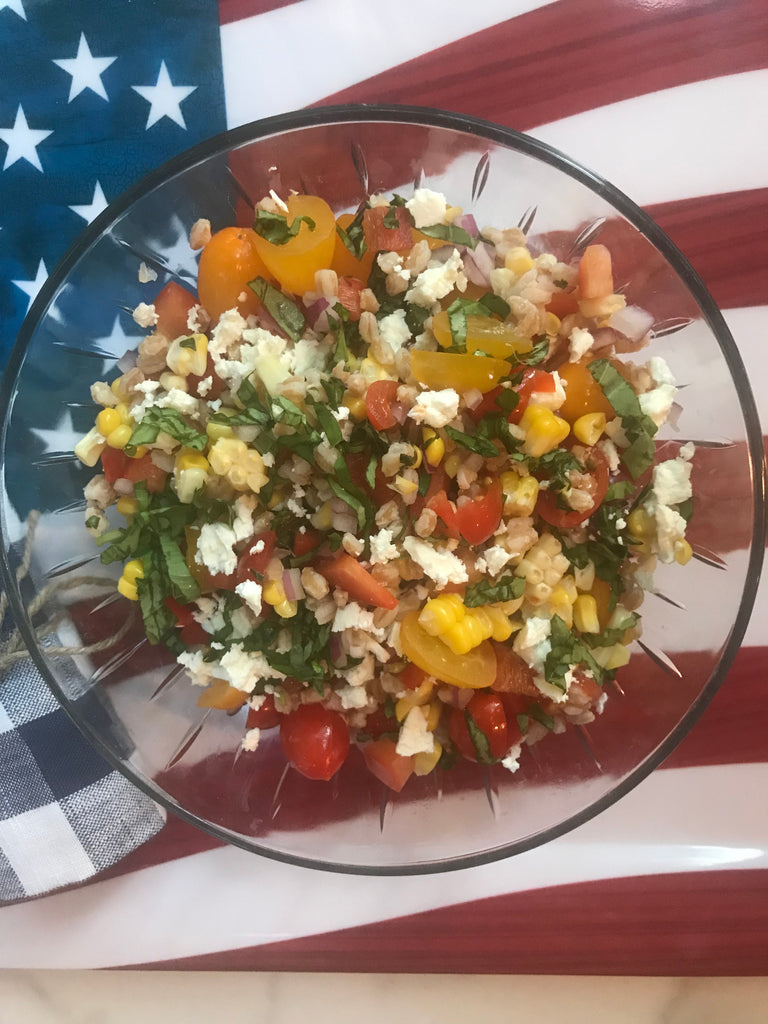 BrothMasters Bone Broth, is a summer Super Food. Most people only think of bone broth as a winter food but why not enjoy the health benefits year round? The easiest way to add BrothMasters Bone Broth to your summer diet is to use it in your favorite recipe, like refreshing Gazpacho or a Classic Vichyssoise (leek and potato soup, served chilled). They are the perfect appetizer or lunch main course during the hot summer months. Replace water with BrothMasters Bone Broth when cooking grains or rice to boost not only the nutritional value but the flavor as well.
Try this method with this Mediterranean Farro Salad filled with fresh ingredients, and lots of chewy delicious farro. It's a perfect summer salad, fresh, crisp and simple to make.
Total Time: 25 minutes  
Prep Time: 10 minutes
Cook Time: 15 minutes
Ingredients:
Salad
2 cups BrothMasters Bone Broth
1 cup uncooked farro
1 large cucumber, seeded and finely-diced
2/3 cup finely-diced red peppers
2 ears fresh corn
1 pint quartered grape tomatoes
1/2 cup crumbled feta cheese
half of a small red onion, finely diced
1/8-1/4 cup finely shredded basil

Greek vinaigrette (optional, it's great without it)
3 Tablespoons olive oil
1 Tablespoon freshly-squeezed lemon juice
1 Tablespoon red wine vinegar
pinch of garlic powder
pinch of salt
pinch of black pepper

Directions:
Stir together BrothMasters Bone Broth and farro in a medium saucepan, and cook according to package instructions until al dente.  
Let farro cool for at least 10 minutes. Make the vinaigrette while the farro cools.
Transfer farro to a large mixing bowl, and add in remaining ingredients, including the vinaigrette.  
Toss until combined. Serve immediately, or cover and refrigerate for up to 2 days.