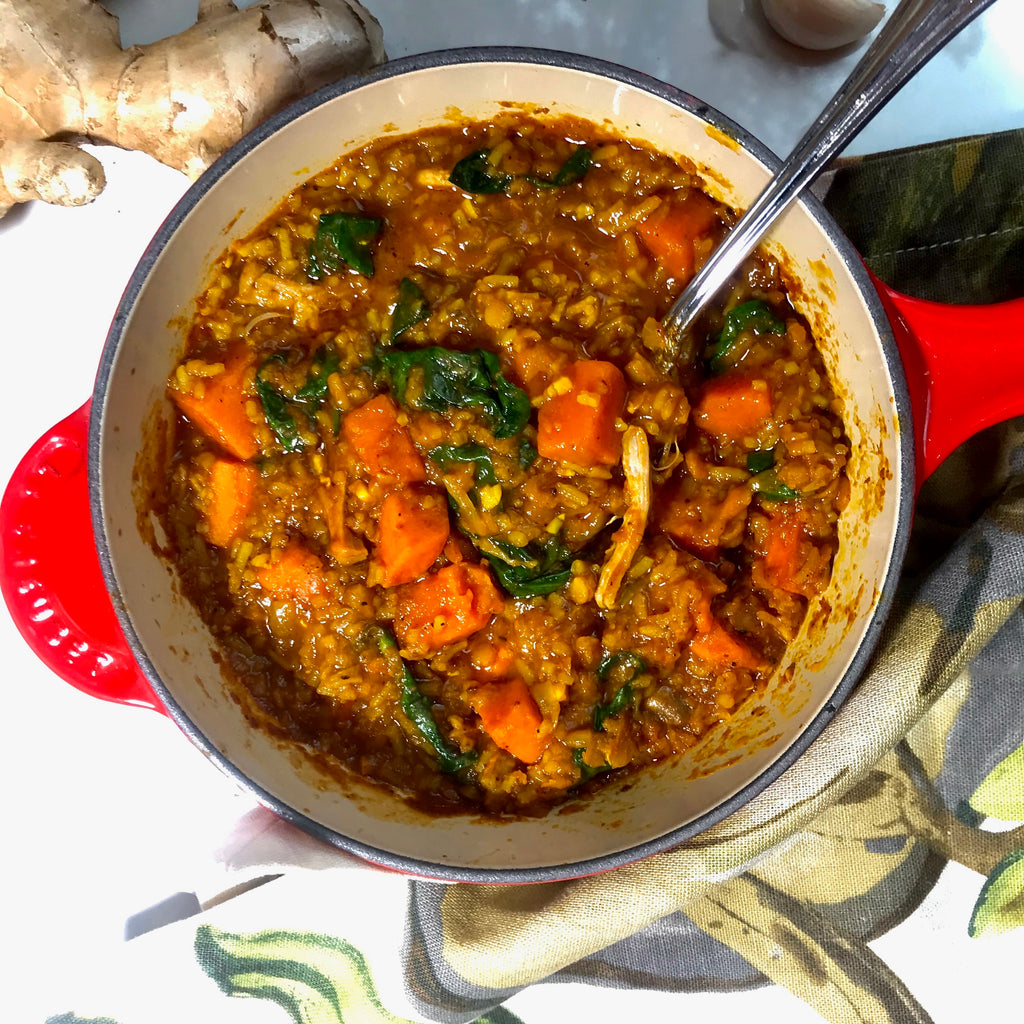 The temperatures are dropping and the days are shortening. We need something to warm us from the inside out and nurture us. This Mulligatawny soup is the perfect comfort food: hearty, delicious and so good for you. It's a whole meal in a bowl full of beneficial ingredients:
Immunity: boosts your immune system, loaded with onion and garlic which are Anti-Viral and Anti-Bacterial
Anti-inflammatory: glucosamine and chondroitins help maintain healthy joints
Gut Health
Hair + Skin: loaded with collagen for skin, hair, and bones.

Sweet Potatoes

An excellent source of Vitamin A, important for the immune system, normal vision, and reproduction.
Vitamin A also helps the heart,  lungs, kidneys, and other organs work properly.

Spinach

Anti-inflammatory properties and supports brain health. 
Ingredients:
4 skinless chicken thighs, or thighs and legs
2 cups sweet potato peeled and cubed
3 cups spinach
1/2 cup basmati rice rinsed
1/4 cup red lentils
1 bay leaf
2 allspice berries whole
1 onion finely chopped
4 garlic clove finely chopped
1 tbsp fresh ginger finely chopped
2 tsp curry powder
3 tsp cumin (it's best to pan roast cumin seeds dry until they just brown)
2 tsp turmeric
1 tsp coriander powder
chili flakes
2 cups tomato passata-strained tomatoes
4 cups BrothMasters Bone Broth
1-2 cup water more if necessary
1 tsp salt
1/4 cup olive oil or slightly less - this gives the soup a creaminess
Directions:
In a large pot heat up olive oil. When warm add all the spices, chopped garlic, onion and ginger and cook over a medium heat for 3 minutes.
Move onions to the side, add chicken pieces – cook 4 min on each side.
Add 1 cup BrothMasters Bone Broth, bring to a boil, cover and cook for 10 minutes.
Add sweet potato, and another cup of broth, cover and simmer another 5 minutes.
Add rice, lentil, passata and the rest of the broth, bring to a boil and cover. Simmer for 15 more minutes stirring often.
Remove chicken and pull the meat from the bones. Place the pot back on
stove, add spinach. Cover and cook for 3 more minutes then add back in
the chicken pieces.