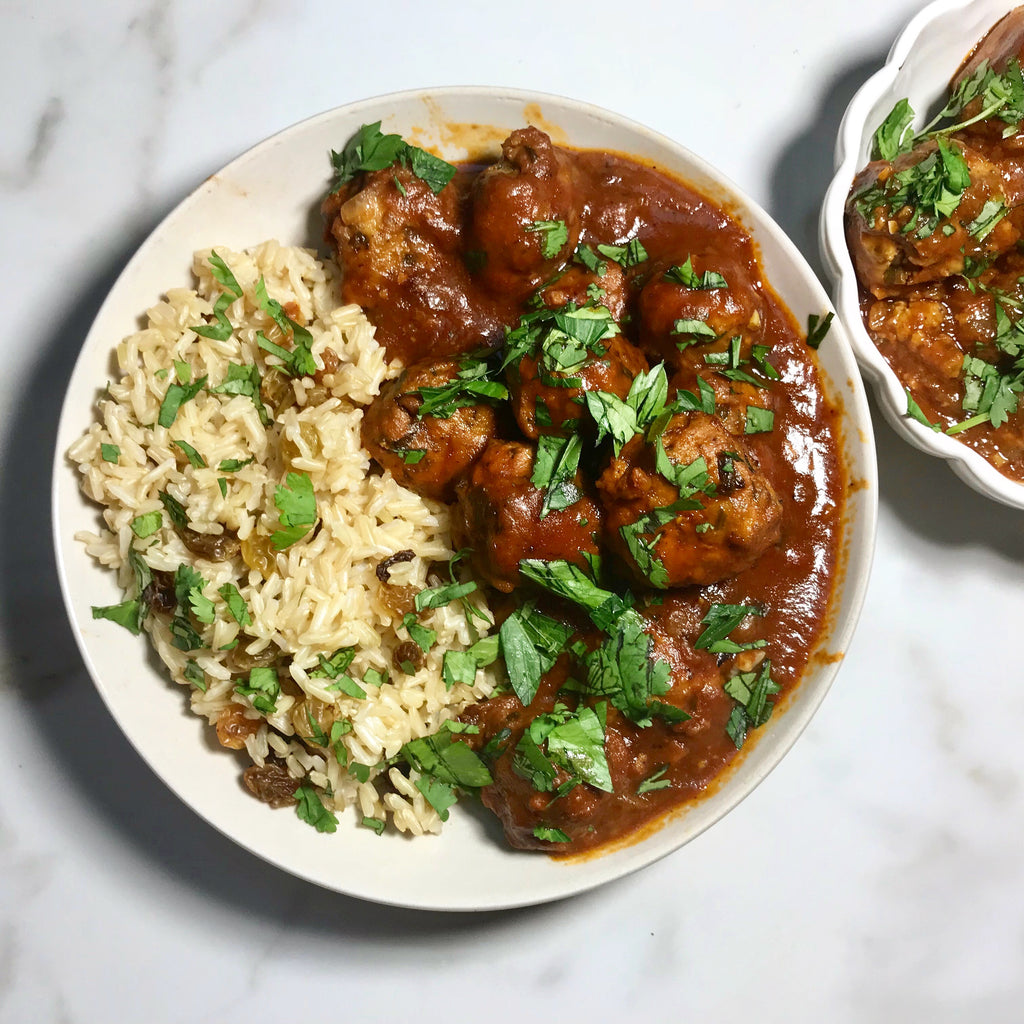 This recipe is loaded with herbs and spices that are anti-inflammatory, which in addition to the bone broth, will boost your immunity. These ingredients also support digestive health.
Don't let the number of ingredients scare you! The key to making this easy is: Mise en place, the art of prepping ingredients in advance. Measure the spices for the meatballs a day or two before you cook, and make the sauce a day in advance. The next day you'll be eating this delicious dish in 30 minutes. 
Recipe from David Tanis, New York Times Cooking 
INGREDIENTS
Saffron Tomato Sauce
2 tablespoons olive oil
1½ cups finely diced onion (using a vidalia onion chopper makes this super easy)
3 garlic cloves, minced
2 tablespoons tomato paste
1 inch piece cinnamon stick
Large pinch saffron, crumbled
Salt and pepper
3 cups BrothMasters bone broth
Meatballs
1 ½ cups cubed day-old firm white bread
1 cup milk
½ lb ground turkey
½ lb ground beef
1 large egg, beaten
1 teaspoon salt
¼ teaspoon black pepper
4 garlic cloves, minced
⅛ teaspoon grated nutmeg
1 teaspoon ground ginger
1 teaspoon turmeric
2 teaspoons paprika
¼ teaspoon cayenne
¼ teaspoon ground cloves
¼ teaspoon ground coriander 
½ teaspoon ground cumin
3 tablespoons chopped parsley
3 tablespoons chopped cilantro
3 tablespoons finely chopped scallion
All-purpose flour, for dusting
Olive oil or vegetable oil
Couscous or brown basmati rice (optional)
1 cup giant couscous, m'hamsa, or medium couscous
2 tablespoons butter
½ cup golden raisins, soaked in hot water to soften, then drained
Salt
INSTRUCTIONS
1. Make the sauce: Heat oil over medium-high heat in a wide, heavy bottomed saucepan. Add onion and cook without browning until softened, about 5 minutes. Add garlic, tomato paste, cinnamon and saffron, and stir well to incorporate. Season generously with salt and pepper, and allow to sizzle for 1 minute more. Add bone broth and simmer gently for 5 minutes. May be made up to a day in advance.
2. Start the meatballs: Put bread cubes and milk in a small bowl. Leave bread to soak until softened, about 5 minutes, then squeeze dry.
3. In a mixing bowl, put squeezed-out bread, ground meat and egg. Add salt, pepper, garlic, nutmeg, ginger, turmeric, paprika, cayenne, cloves, coriander and cumin. Mix well with hands to distribute seasoning.
4. Add 2 tablespoons each of parsley, cilantro and scallion (save remainder for decoration), and knead for a minute. May be prepared up to a day in advance.
5. With hands, roll mixture into small round balls about the size of a quarter. Dust balls lightly with flour. Heat a few tablespoons of oil, or a quarter-inch depth, over medium-high heat and fry meatballs until barely browned, about 2 minutes per side. Drain and blot on paper towel.
6. Simmer meatballs in saffron-tomato sauce, covered, over medium heat for about 20 minutes, until tender.
7. Meanwhile, make the couscous, if desired: Cook according to package directions, fluff gently and stir in butter and raisins. Season with salt and cinnamon, and toss well.
8. Garnish meatballs with remaining parsley, cilantro and scallion. Serve with couscous and roasted tomatoes if desired.