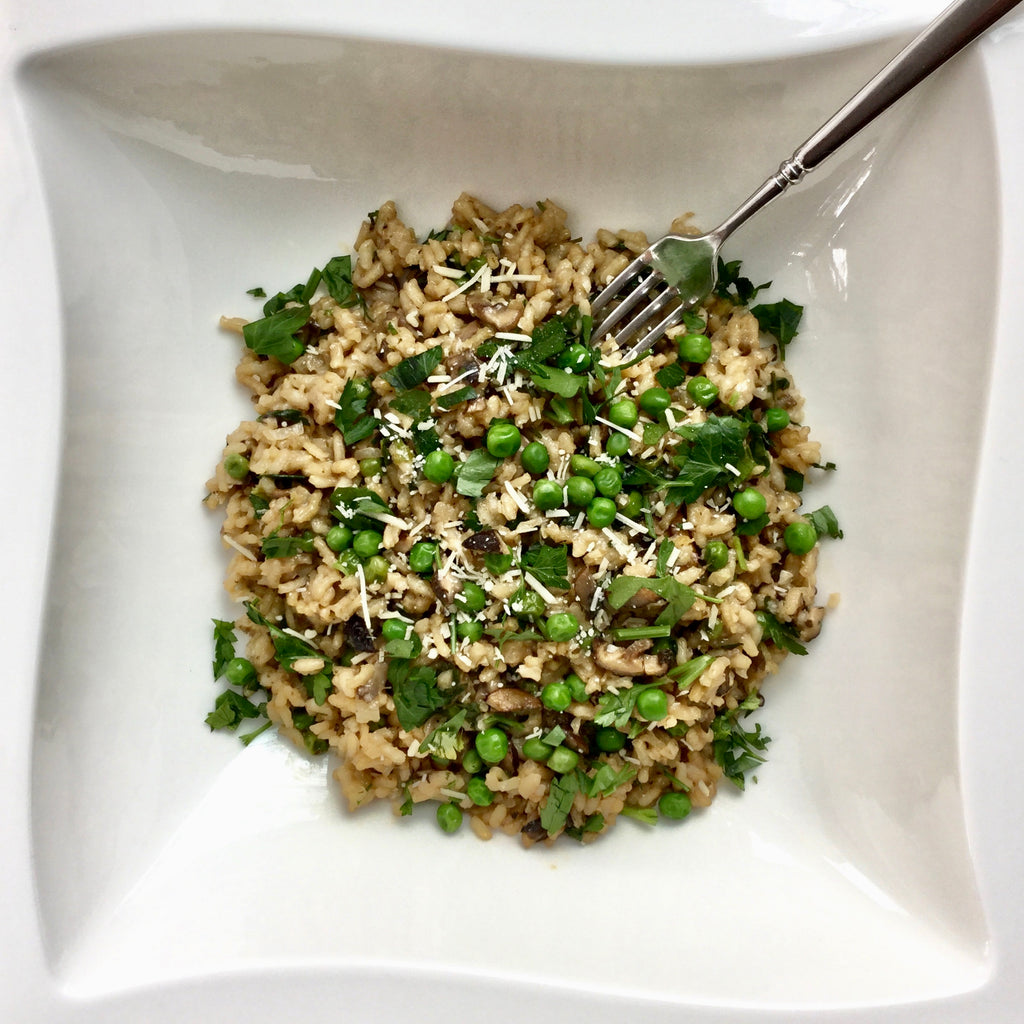 Inspired by cooking seasonally, this fresh green dish is a meal on its own or the perfect accompaniment to any meal. Spring peas and parsley make this dish vibrant and offer a great way to eat your colors!
Ingredients:
2 cups BrothMasters Bone Broth
5 cups water
1/2-ounce dried porcini mushrooms
1/4 cup unsalted butter
2 tablespoons olive oil
2 cups finely chopped onions
10 ounces white mushrooms, finely chopped
2 garlic cloves, minced
1 1/2 cups Arborio rice or short-grain white rice
2/3 cup dry white wine
1 cup frozen peas, thawed
1 cup grated Parmesan
½ -1 cup chopped parsley
Salt and freshly ground black pepper

Directions:
Bring BrothMasters Bone Broth and water to a simmer in a heavy medium saucepan.
Add the porcini mushrooms. Set aside until the mushrooms are tender, about 15 minutes. Keep the broth warm over very low heat.
Melt the butter in a heavy large saucepan over medium heat. Add olive oil. Add the onions and saute until tender, about 8 minutes. Add the white mushrooms and garlic.
Using a slotted spoon, transfer the porcini mushrooms to a cutting board. Finely chop the mushrooms and add to the saucepan. Saute until the mushrooms are tender and the juices evaporate, about 5 minutes.
Stir in the rice and let it toast for a few minutes.
Add the wine; cook until the liquid is absorbed, stirring often, about 2 minutes.
Add 1 cup of hot broth/water; simmer over medium-low heat until the liquid is absorbed, stirring often, about 3 minutes. Continue to cook until the rice is just tender and the mixture is creamy, adding more broth/water by cupfuls and stirring often, about 28 minutes (the rice will absorb 6 to 8 cups of the broth and water mixture).
Stir in the peas leaving some to garnish.
Mix in the Parmesan. Add parley, save some to garnish. Season with salt and pepper, to taste.