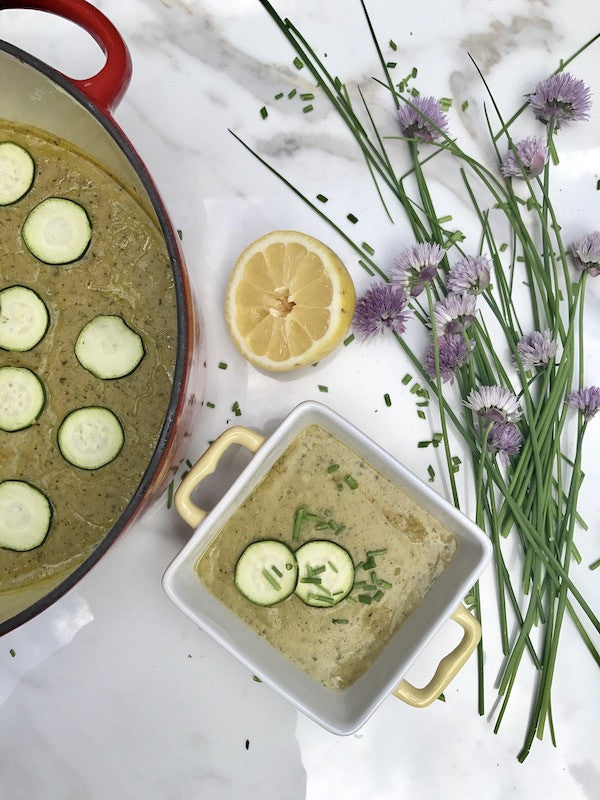 Make a pot of this easy, low-calorie, low-fat, filling, delicious soup. The rice in the soup, after it's pureed, gives it a creamy rich texture, which is so yummy! Eat it for lunch or dinner until it's gone and watch the pounds come off, knowing you are getting all the calcium, protein and nutrients you need from BrothMasters Bone Broth.  
The recipe is an adaptation of the New York Times 10 most popular recipes. Our broth is so rich, we were able to cut out a few ingredients (they were already in our broth) and steps, which = less time prepping. It takes just minutes to prep and 30 minutes to cook, with amazing results.
Ingredients
1 tablespoon extra virgin olive oil
2

 

pounds zucchini, diced (about 7 cups diced)
2

 

teaspoons curry powder
4 cups BrothMaster Bone Broth plus 1 cup water
¼

 

cup basmati rice
Salt to taste
Freshly ground pepper
Pinch of cayenne
2

 

tablespoons fresh lemon juice
Garnish
2

 

tablespoons chopped chives
1

 

small zucchini, sliced paper-thin, use a mandolin if you have one. Toss with salt and, if desired, lemon juice, and marinate for 15 minutes or longer.
Garlic croutons (optional)
Preparation
Heat the olive oil over medium heat in a large, heavy soup pot. Add the curry powder, stirring just until the curry warms, then add the zucchini and stir for about a minute. Add a generous pinch of salt, the broth, water, and the rice. Bring to a boil, reduce the heat, cover and simmer 30 minutes. Taste and adjust salt.
Carefully Purée the soup with an immersion blender, a food mill or in batches in a blender until creamy. Add more water if you like a thinner soup. Return to the pot, heat through, add pepper and cayenne to taste and stir in the lemon juice. Serve, garnishing each bowl with paper-thin slices of zucchini, chopped chives and croutons if desired.