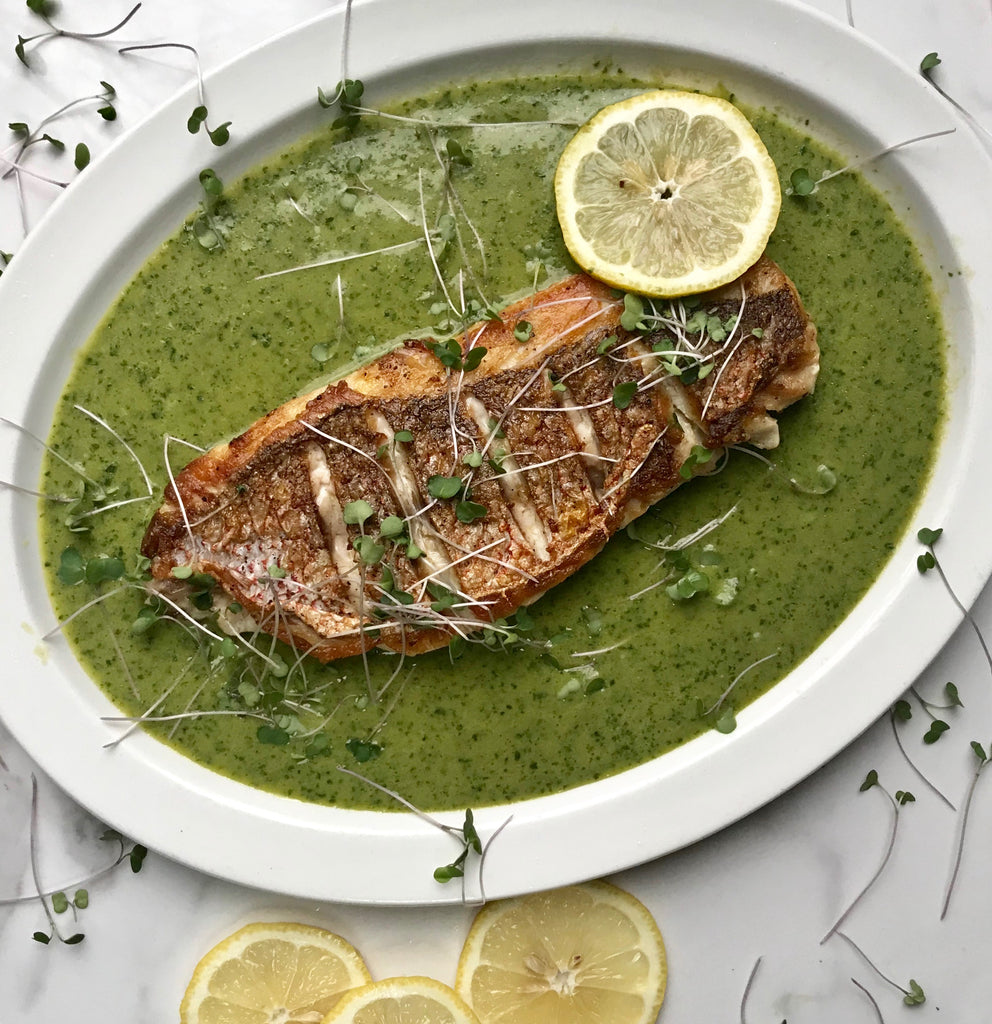 Adding some fresh flavors to a dreary season. Snapper + cilantro go together like peas and carrots.
Ingredients
1 clove garlic minced
1 shallot or 1/4 of a sweet onion finely chopped
2 tablespoons fresh squeezed lemon juice
2 teaspoons olive oil
1/4 teaspoon kosher or fine sea salt
1/4 teaspoon freshly ground black pepper
Two 6-ounce pieces skin-on red snapper fillets, pin bones removed 
Directions
Mince the garlic and shallot (together is okay).
Squeeze 2 tablespoons of juice from the lemon into a mini food processor or blender. Heat a teaspoon of the oil in a medium nonstick skillet over medium heat.
Add the garlic and shallot, stirring to coat. Cook for 4 minutes, until they are softened and starting to take on a golden color. Transfer to the mini food processor or blender.
Add the Broth Masters bone broth, cilantro, half of the salt and half of the pepper; puree until smooth.
Score the skin of the red snapper. Season both sides of the snapper with salt and pepper. Heat pan then add the remaining 2 teaspoon of oil over medium heat, in the same skillet you used to cook the garlic-shallot mixture.
Put snapper into hot pan skin side down. Sear on medium to high heat for about 5 minutes, do not lift to check. After 5 minutes lift one side, it should look crispy, if not leave it on a little longer.
Turn fish, then sear another 3-5 minutes.
Warm cilantro sauce, do not over cook. Put it on a plate and top with the snapper or add sauce to pan and cook together for 1-2 minutes and serve.