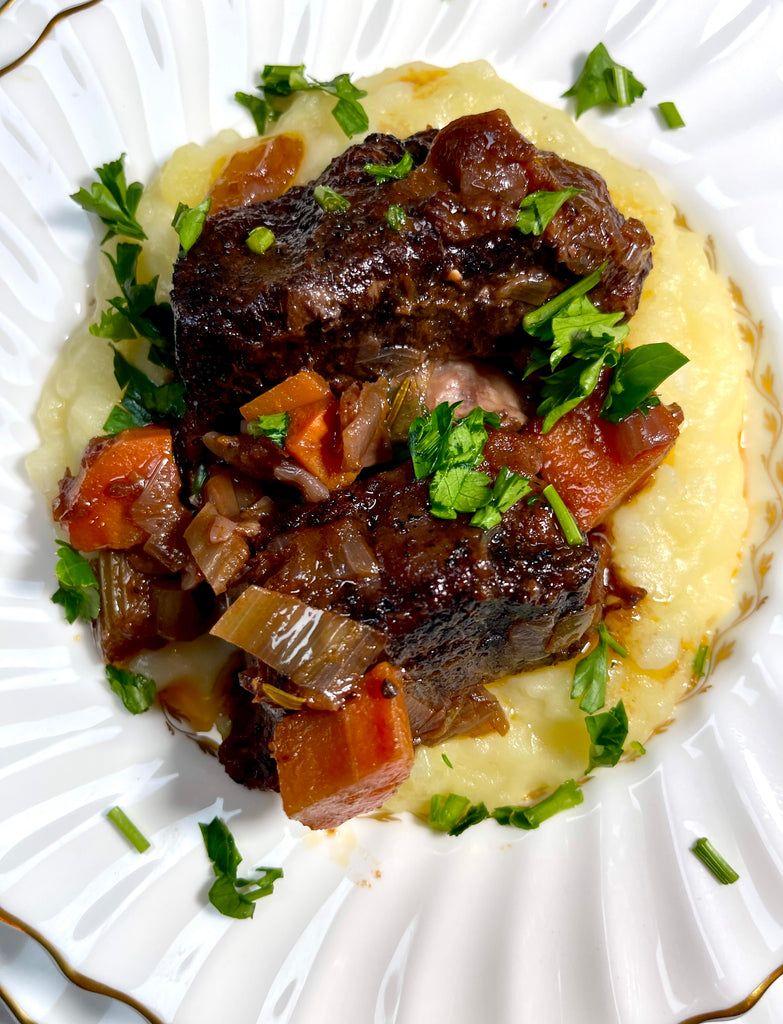 Broth Master bone broth adds a healthy addition to the classic dish. 
This Thanksgiving bring a little meat into the menu with this, to quote our friends, OMG-Dee double licious dish. 
5 pounds very meaty bone-in beef short ribs, cut into 2-inch chunks

 

¼ cup olive oil

 

1 ½ tsp Kosher salt and freshly ground black pepper

 

3 cups large dice leeks, white and light green parts (3 leeks)

 

3 cups large dice celery (5 to 6 ribs)

 

1 small fennel bulb large dice

 

2 cups large dice yellow onions (2 onions)

 

2 cups large dice peeled or unpeeled carrots (6 carrots)

 

1½ tablespoons minced garlic (5 cloves)

 

¾ bottle dry red wine like Cabernet Sauvignon

 

4 cups Broth Masters original beef and chicken bone broth 

2 tablespoons tomato past

 

1/2 cup canned crushed tomatoes.

 

2 bay leaves 

 

6 sprigs fresh thyme /3 sprigs rosemary tied with a string.

 
INSTRUCTIONS
Preheat the oven to 425 degrees. Place the short ribs on a sheet pan, brush with olive oil, and sprinkle with 1½ teaspoon salt and 1½ teaspoons pepper. Roast for 20 minutes and remove from the oven. Reduce the temperature to 275 degrees.

 

Meanwhile, heat ¼ cup olive oil in a large Dutch oven (12-inch), over medium heat. Add the onions, leeks, celery, fennel and carrots, cook over medium to medium-high heat for 20 minutes, stirring occasionally . 

 

Add the garlic and cook for one minute 

 

Add the tomato paste cook 2 minutes stirring constantly.

 

 Add the wine, bring to a boil, lower the heat, and simmer over medium heat for 10 minutes, until the liquid is reduced. 

 

Add the Broth Master bone broth, tomatoes, 1 ½ salt, and 1½ teaspoons pepper.

 

Place the ribs in the pot, along with the juices and seasonings from the sheet pan. Bring to a boil, cover, and cook in the oven for 3 ½ -4 hours. Until very tender

 

Remove the short ribs to a plate with a slotted spoon and discard the thyme/rosemary bundle and any bones that have separated from the meat. Simmer the sauce on the stove for 20 minutes, until reduced. Skim some of the fat off the top and discard. Return the ribs to the pot, heat through.

 

Serve in shallow bowls over mashed potatoes with sauce spooned over.