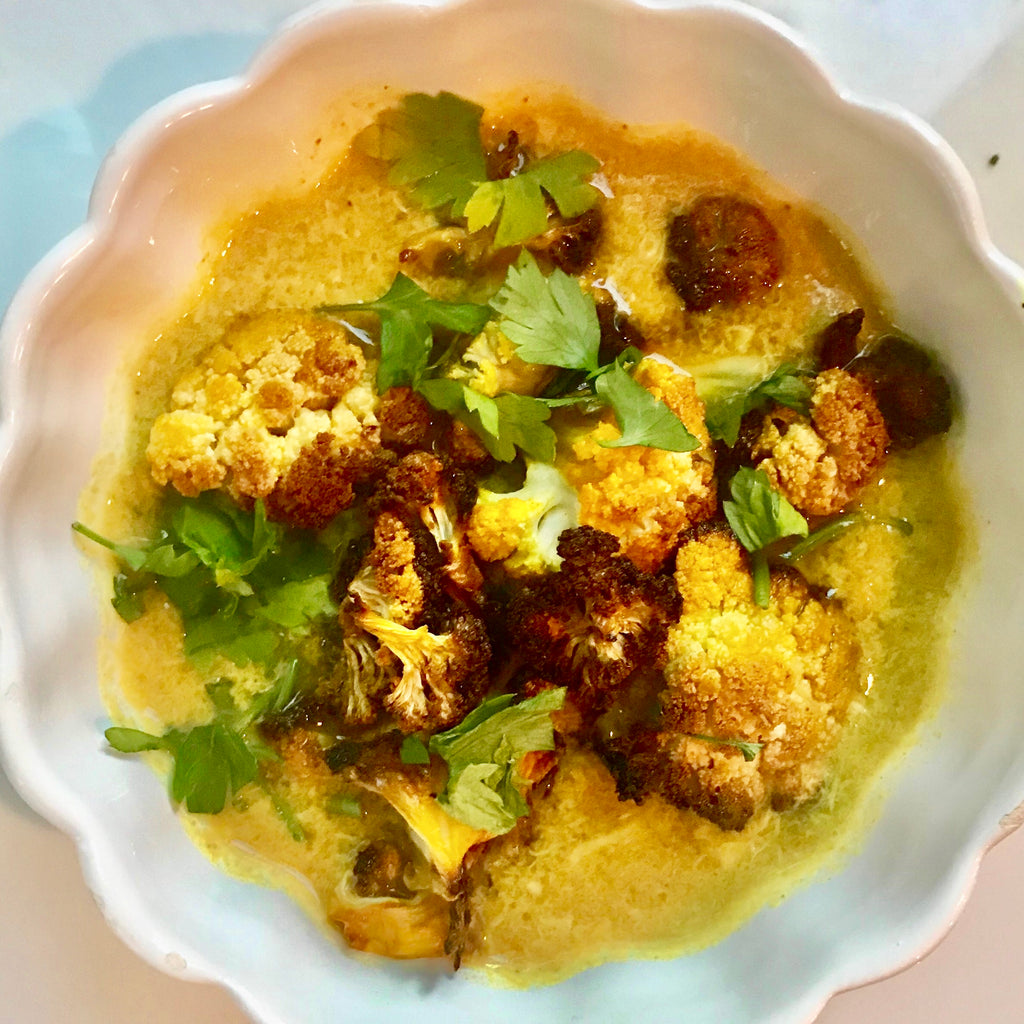 In the last 4 weeks I put my body through some grueling workouts. It began with an annual 3 day 312 mile Make–A-Wish ride through 18-20 mile per hour head winds, and ended with Laya (my partner, travel companion, best friend and daughter) and I doing the Half Dome hike at Yosemite - 19 miles, 5,000 foot elevation gain, taking us 14 hours.
My 66 year old body was screaming for anti-inflammatory foods with collagen and protein to heal and recover. The recipe below was the perfect meal to begin with. Cauliflower contains vitamins, minerals, and antioxidants that help support your heart health, fight cancer, and inflammation. Turmeric has long been known for its anti-inflammatory properties; put the two together with BrothMasters Bone Broth and you feel your body say "ahhh".
Turmeric Roasted Cauliflower, Egg, BrothMasters Bone Broth Soup
The key to this recipe is not to overheat the broth which would diminish the anti-inflammatory properties. This was the perfect Super food to soothe my aching joints and muscles
Ingredients:
1 medium cauliflower
3/4 tsp kosher salt, sea salt or Himalayan salt
3/4 tsp turmeric powder
1/4 tsp ground black pepper
1/2 tsp garlic powder
3 tbsp healthy cooking fat (such as butter, olive or avocado oil, ghee, or coconut oil)
2 tbsp fresh parsley (optional)
1 pouch BrothMasters Bone Broth
2 eggs

Directions:
Cut cauliflower into florets and add to a bowl. Season the cauliflower with salt, turmeric, black pepper, and garlic powder, then drizzle or dot with a healthy cooking fat of your choice. Toss to coat cauliflower with oil. Spread the cauliflower florets on a large baking sheet. Be careful not to crowd or stack the cauliflower.
Put cauliflower in a preheated oven at 375ºF for 40 minutes or longer if you want it crispy.
Beat eggs in a small bowl, add about ½ tsp more of turmeric and a little cayenne pepper.
Begin heating BrothMasters Bone Broth
Temper the eggs to get a creamer soup. To do this, whisk about ¼ cup of the hot broth into the eggs, then whisking them back into the broth. If you don't it will be more like an egg drop soup.
Put roasted Cauliflower in a bowl and pour in broth. You can also add the cauliflower to the broth and immersion blend it for a thicker soup. Sprinkle with parsley or cilantro.
ENJOY!