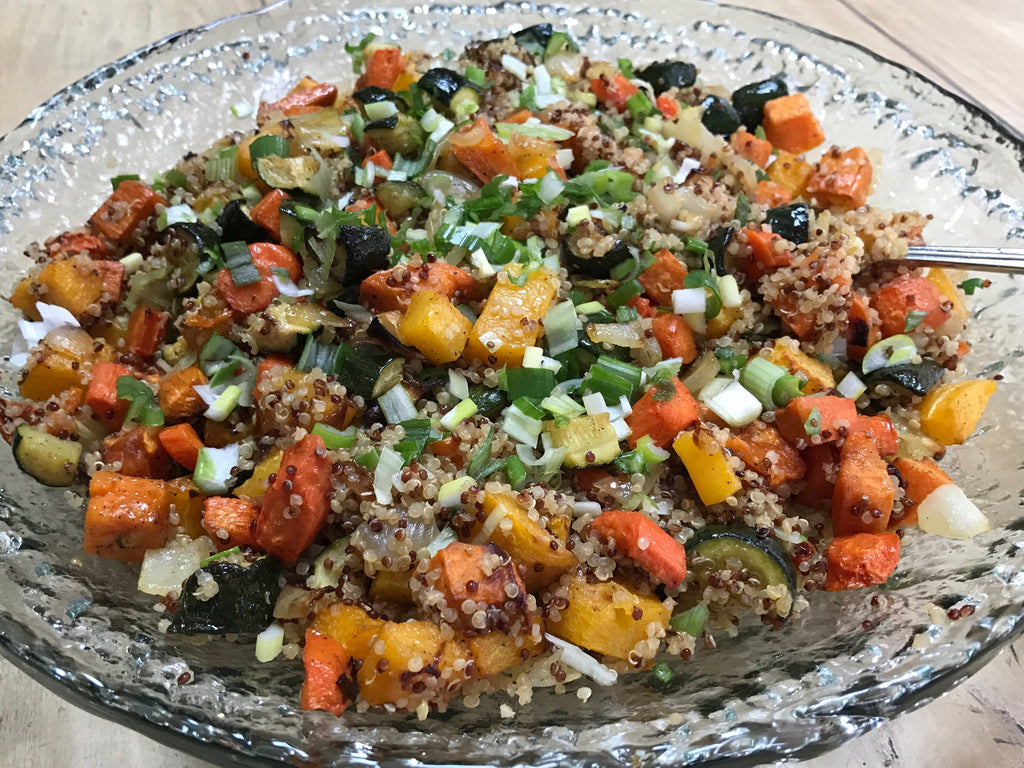 Recipe for roasted winter vegetables with quinoa and bone broth. Perfect for lunch or dinner, and easy to make.
2 cups BrothMasters bone broth
2 cups (3/4 inch) diced butternut squash 
2 cups chopped yellow onion
1 cup cubed sweet potatoes  
1 ½ cups diced carrots   
1 ½ cups diced zucchini
2 tablespoons olive oil
2 teaspoons Kosher salt
1 teaspoon freshly ground black pepper
¼ cup water
4 tablespoons melted butter
½ teaspoon cumin
1 teaspoon saffron threads
¾ cup white quinoa or couscous
¾ cup red quinoa or couscous
2 chopped scallions, white and green parts
Optional: Sauté the onion first.  
Preheat oven to 375
Place the butternut squash, onions, sweet potatoes, carrots and zucchini on a baking sheet and toss with 2 Tablespoons olive oil. Add 2 tsp. salt and 1 tsp. pepper. Roast for 25-40 minutes until all vegetables are tender, turning once with a spatula.
Meanwhile, in a saucepan, dry roast the quinoa, stirring constantly until the quinoa begins to make a ticking sound. Add the Bone Broth and bring to boil, then turn down to a slow simmer. Add cumin and saffron threads and simmer for 18 minutes.
Fluff quinoa with a fork and put  in a large bowl. Add the scallions and vegetables and toss with a fork. Serve warm or at room temp.