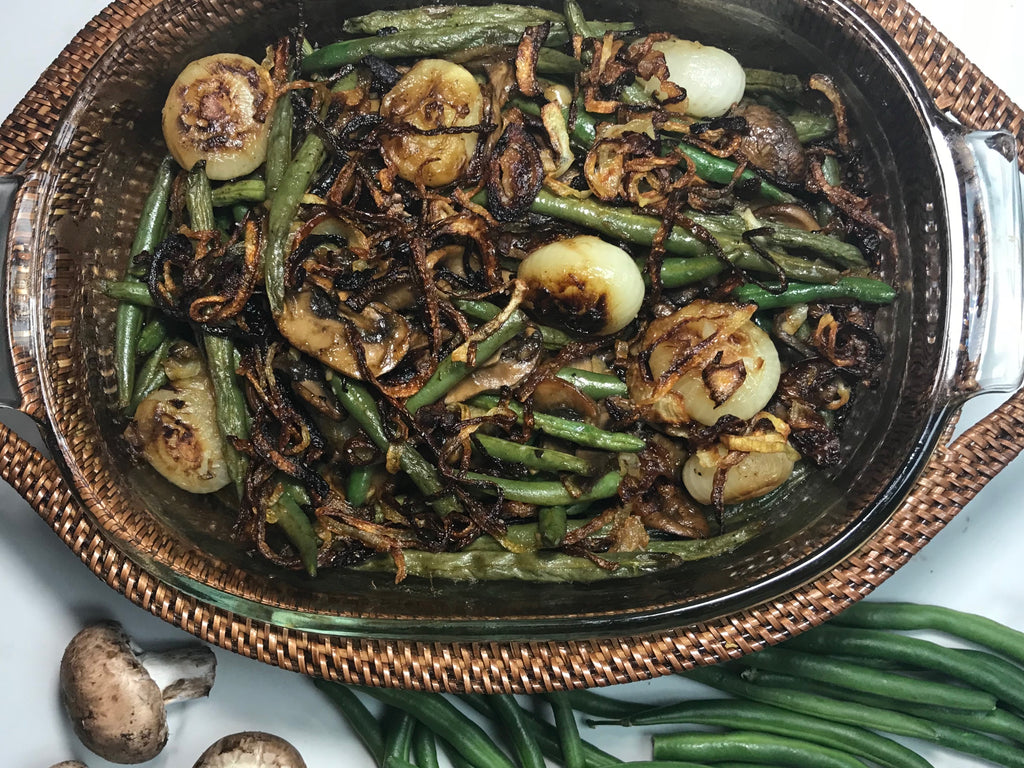 With the holiday season upon us, it's hard to stay focused on healthy eating. Here is a healthier version of the traditional green bean casserole. Just as yummy, minus all the cream, with BrothMasters Bone Broth for added nutrient rich benefits. Mise en place: Steps 2 & 3 of the green bean casserole, Onions and Mushrooms, can be made a day ahead of time and refrigerated.
Crispy Onions: (can not be made ahead)
1 large onion, sliced very thin

1 cup extra virgin olive oil

Kosher salt
Green Bean Casserole:
Reserved extra virgin olive oil from crispy onions

1 lb sliced button and/or shitaki mushrooms

2 lbs cipollini onions or pearl onions

4 garlic cloves, minced

1 tsp fresh thyme leaves

2 tablespoons all-purpose flour

½ cup dry white wine

2 cups BrothMasters Bone Broth

2 pounds fresh green beans, trimmed and cut into 2-inch pieces

2 tbls all purpose flour

½ white wine

Kosher salt

Fresh ground pepper
PREPARATION
Crispy Onions:
Line a baking sheet with paper towels. 
In a large sauté pan over medium heat, heat olive oil until adding a slice of onion sizzles. Add all onions and cook for 20 to 30 minutes, or until golden brown and crunchy. Take your time with this step; the payoff is crispy, crunchy onions.
Transfer to baking sheet, sprinkle with kosher salt and pepper.
Green Bean Casserole:
Preheat oven to 350°F. Grease a large casserole dish or Dutch oven.
In a large sauté pan over medium high heat, sauté mushrooms in 1 tablespoon of reserved olive oil for 5 to 7 minutes, until golden brown and slightly crispy on the edges. Season with salt and pepper, and transfer to a bowl. Set aside.
Warm 2 tablespoons of reserved olive oil in a large sauté pan over medium heat. Add Cipollini onions, season well with salt and pepper and cook, turning occasionally, until onions are a deep caramel brown, about 45 minutes. Add garlic and thyme to the pan and continue cook for 1 minute, until the garlic has softens and is fragrant. Transfer onions and garlic to the bowl with mushrooms.  
At this point you can refrigerate for one day.
Add 2 tablespoons more of reserved olive oil to the pan. Add flour and whisk together with oil. Pour in white wine and cook for 1 minute. 

Pour in broth, and whisk into a thick sauce. Add mushrooms and onions back to the pan and stir to combine. 
Toss green beans with 1 tablespoon of reserved olive oil, salt, and pepper. Then fold green beans into the sauce. Pour into prepared casserole or Dutch oven, and bake uncovered at 350°F for 20 minutes. Sprinkle crispy onions on top, continue baking for 10 more minutes.