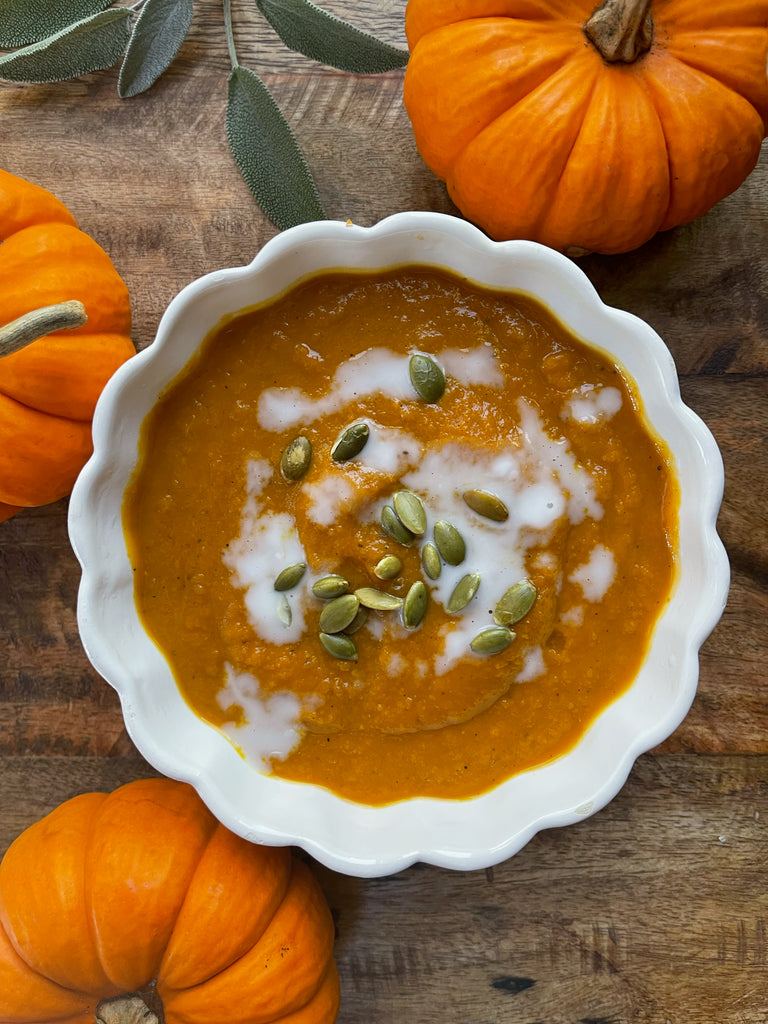 With Thanksgiving just around the corner this creamy, savory Pumpkin Soup is the
perfect addition to your holiday menu.  It can be super-fast and easy by using canned pumpkin puree (don't make the mistake of using pumpkin pie pumpkin) or if you have the time, roast fresh pumpkin. Either way, adding BrothMasters Bone Broth makes this not only delicious but immune boosting and excellent source of nutrients.
Enjoy!


EASY CREAMY PUMPKIN SOUP INGREDIENTS  
2 cups of BROTHMASTERS BONE BROTH 
2 cups of pumpkin puree canned or fresh*
3/4 cup of full-fat coconut milk (reserve 1 tbsp) 
1 tsp salt 
1/2 tsp pepper 
1/2 tsp powdered sage 
1/4 tsp celery salt or powder 
sage leaves for the top 
pumpkin seeds to stir in or top 
cyenne pepper to taste ( optional) 
Place BROTHMASTERS Bone Broth, pumpkin puree, coconut milk, salt, pepper,
sage powder (if you can't find powder use dried leaves and crush with a mortar
and pestle)  and celery salt in a sauce pan. 

Cook over medium until well blended and it thickens slightly.  Cook for about
8-10 minutes.

Garnish with a drizzle of coconut milk and pumpkin seeds. 

* If you want to use fresh pumpkin its FAR simpler then you think
Get two 4-5 pound pumpkins. This will make more the 2 cups but better more
then not enough, you can always increase the other ingredients serve more
people. Cut the pumpkin lengthwise. Scrape out the seeds .

Place cut-side down and bake at 375F for 60-75 minutes or until soft and tender. 
Let cool and scrape away from the rind. Puree in a food processer.