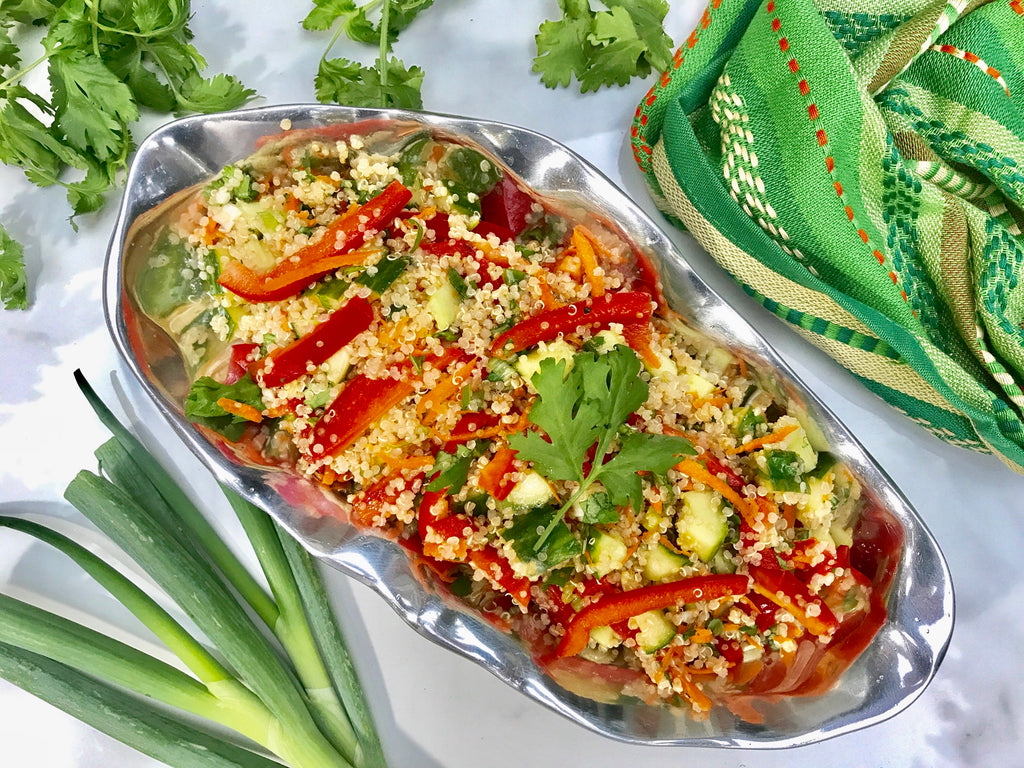 This wonderful refreshing Quinoa Salad is not only delicious but also loaded with protein.
According to WebMD "Protein is an important component of every cell in the body. Your body uses protein to build and repair tissues. It's an important building block of bones, muscles, cartilage, skin, and blood." Animal protein sources are complete proteins that contain all of the essential amino acids. "Proteins from animal sources …provide the highest quality rating of food sources."*
Getting your protein from bone broth eliminates the one concern of consuming animal protein, fat. There is only 1.5 grams of fat per serving, making it an excellent source of lean animal protein.
Recipe adapted from Raising the Salad Bar by Catherine Walthers
Servings: 2 as main course, 4 as side salad
Total Time: 30 Minutes
Ingredients
For the Salad
1 cup quinoa, rinsed (or pre-washed)
1 2/3 cup BrothMaster Bone Broth
1/4 teaspoon salt
1 red bell pepper, cut into bite-sized strips
1 carrot, peeled and grated
1 English cucumber, seeded and diced
2 scallions, white and green parts, finely sliced
1/4 cup freshly chopped cilantro
2 tablespoons fresh chopped mint or basil (optional)
For the Dressing
1/4 cup freshly squeezed lime juice, (about 3-4 limes)
2 1/2 teaspoons Asian fish sauce
2  tablespoons olive oil
2 tablespoons sugar
1/4 teaspoon crushed red pepper flakes (use less if you don't like heat)
Instructions
Heat medium saucepan on low, add quinoa. Increase heat to medium, stirring constantly, until quinoa starts making a little ticking sound
Add salt and 1 2/3 cups BrothMasters Bone Broth. Bring to a boil and then reduce heat to low, cover, and cook for 18 minutes, until the water is absorbed and the quinoa is cooked. You may have to add 1-2 tablespoons of water if quinoa is not cooked by the time the liquid is absorbed. Transfer to a serving bowl and let cool in the refrigerator.
In the meantime, make the dressing by combining the lime juice, fish sauce, olive oil, sugar and crushed red pepper flakes in a medium bowl. Whisk until the sugar is dissolved.
Once the quinoa is cool, add the red bell peppers, carrots, cucumbers, scallions, fresh herbs and dressing. Toss well, then taste and adjust seasoning with more salt, sugar and lime juice if necessary. Chill in the refrigerator until ready to serve. This salad keeps well for several days in the fridge.
Nutrition Information
Per serving (4 servings)
Calories: 263
Fat: 8g
Saturated fat: 1g
Carbohydrates: 42g
Sugar:10g
Fiber: 5g
Protein: 7g (7 grams of vegetable protein, 60 grams of animal protein)
Sodium: 603 mg
*(Campbell et al., 1999; Godfrey et al., 1996; Pannemans et al., 1998).