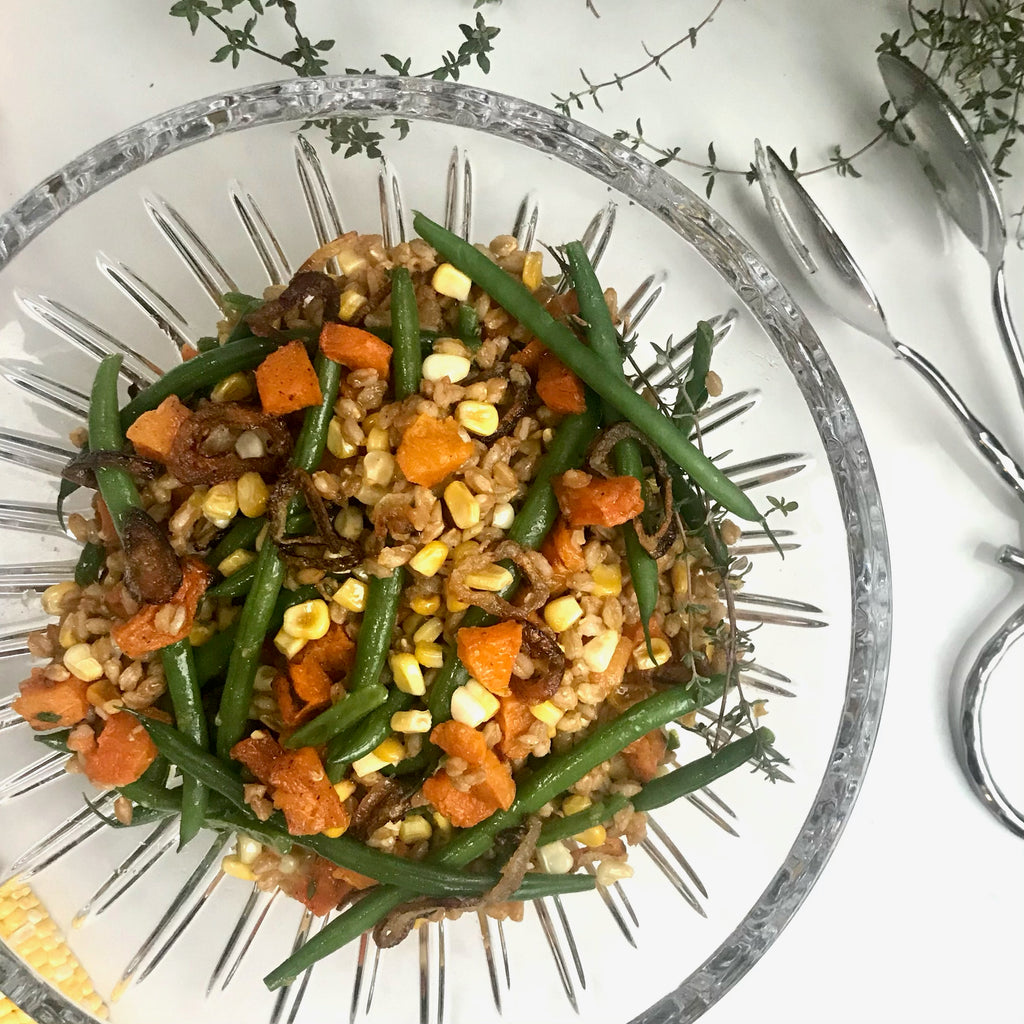 This addictive fall salad is the perfect additions to your Thanksgiving menu. Corn, beans, and squash are called the "Three Sisters". Native American tribes interplanted this trio; Corn stalks created a trellis for beans to climb, and beans' twining vines secured the corn in high winds. Squash plants shaded the ground with their broad leaves, preventing weeds from growing and retaining water in the soil. The "Three Sisters" come together with BrothMasters Bone Broth and Farro to make a delicious nutrient packed fall salad.
Ingredients:
1 cup farro
2 cups BrothMasters Bone Broth
1 butternut squash peeled and seeded cut into 1 inch chunks
6 ounces thin green beans
1 ½ cups fresh corn kernels (about 3 ears)
4 large shallots—3 thinly sliced, 1 minced
Olive oil for frying
1/2 cup all-purpose flour
2 tablespoons sherry or sherry vinegar
1 tablespoon balsamic vinegar
1 garlic clove, minced
1 teaspoon thyme leaves
1/4 cup extra-virgin olive oil
Salt and pepper to taste
Directions:
Preheat oven to 400 degrees
Place the squash on a sheet pan and drizzle with olive oil, salt and pepper, toss well.
Arrange the squash in one layer and roast for 20 turn with spatula. Roast another 15 minutes until squash is tender and just starting to brown.
In a medium saucepan, cover the farro with 2 cups of water. Remove from the heat and let stand for 15 minutes. Drain the farro and return it to the pan.
Add 2 cups of BrothMasters Bone Broth, add a pinch of salt and bring to a boil. Cook the faro over medium heat until al dente, about 10 minutes.
Meanwhile, in a saucepan of boiling salted water, cook the green beans until crisp-tender, about 5 minutes; drain. Rinse the beans under cold water and pat dry. 
Heat the olive oil in a medium skillet over medium-high. In a small bowl, toss the sliced shallots with the flour, separating them into rings. Transfer the shallots to a strainer and tap off the excess flour. Add the shallots to the hot oil and fry over high heat, stirring, until golden, about 5 minutes. Using a slotted spoon, transfer the fried shallots to paper towels to drain thoroughly; season lightly with salt.
Cut corn off the cob (use it raw or fresh) and add to skillet with 1 tablespoon of oil, and cook stirring occasionally, until it begins to char, about 2 minutes.
In a medium bowl, whisk the sherry and balsamic vinegars with the minced shallot, garlic and thyme. Whisk in the extra-virgin olive oil. Season with salt and pepper.
Put all ingredients in a bowl reserving a little of the corn, string beans, roasted butternut squash and shallots to garnish. Toss with dressing, top with reserved toppings.
Make Ahead: 
The recipe can be prepared through Step 5 one day ahead. Keep the fried shallots in an airtight container at room temperature. Refrigerate the farro, roasted butternut squash, green beans, and corn separately. Let all ingredients return to room temperature before tossing the salad.