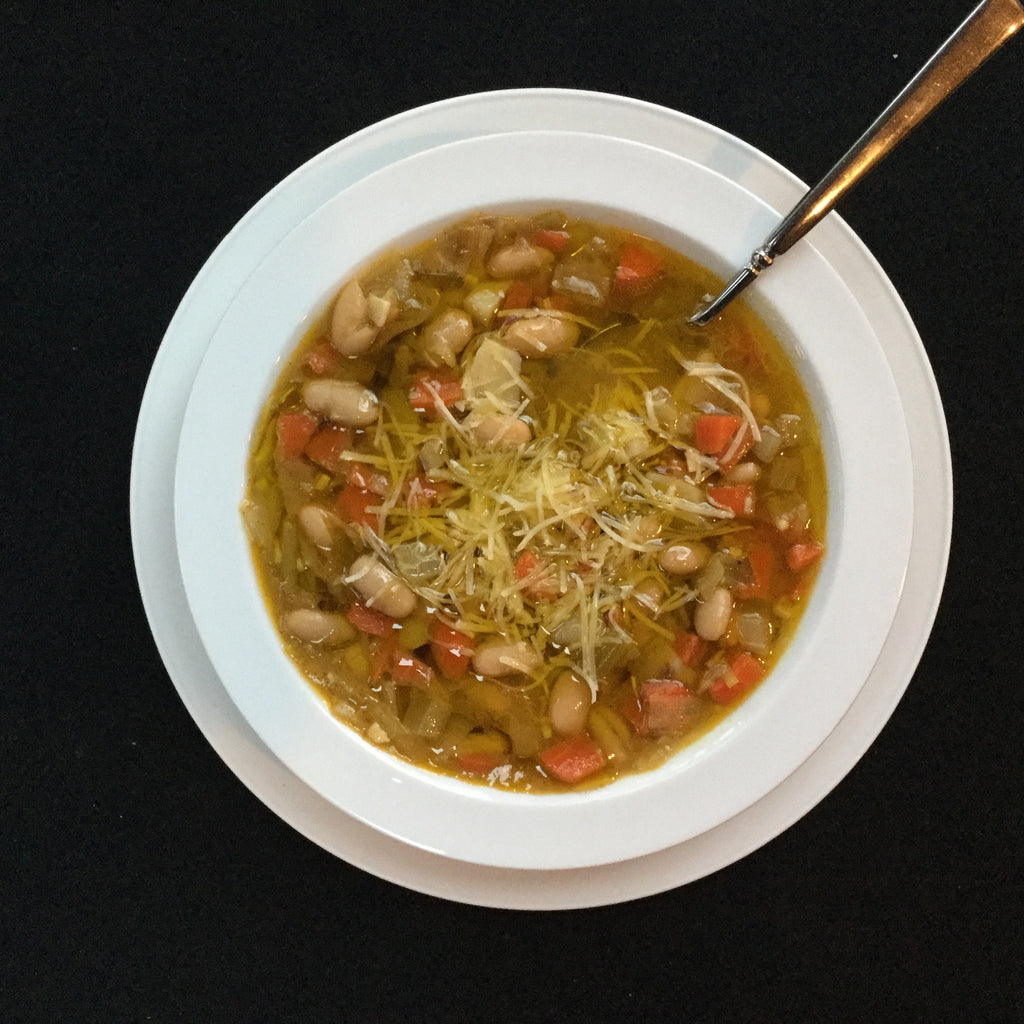 This rustic Tuscan Bean Soup is full of flavor, texture and protein. Perfect comfort food during these unsettling times. Using nutrient dense Broth Masters Bone Broth turns a soup into a meal; just add a chunk of crusty bread and call it a day. 
Ingredients:
1 pound dried white cannellini beans (for canned beans, see note)
Good olive oil
2 large chopped leeks, white and light green parts
2 onions chopped yellow onion
5 carrots (½-inch) diced, scrubbed
4 cups (½-inch) diced celery
3 medium red skinned potatoes diced
2 tablespoons minced garlic (6 cloves)
¼ tsp crushed red pepper flakes more or less to taste (optional)
2 teaspoons minced fresh rosemary
8-10 cups Broth Masters Bone Broth (10 cups if using dry beans)
2 bay leaves
Kosher salt and freshly ground black pepper
Freshly grated Parmesan cheese
Directions:
Place the beans in a large bowl and add enough cold water to cover the beans by 2 inches. Refrigerate for at least 8 hours or overnight. Drain the beans, rinse under cold running water, and drain again. Set aside.
In a large (10-inch) pot, heat ¼ cup of olive oil over medium heat, add the leeks and onions, sauté for about 4 minutes. Add carrots, celery, garlic, red pepper flakes and rosemary and cook over medium-low for 10 minutes, stirring occasionally, until the vegetables are tender.
Add the beans, potatoes, 8 cups of Broth Masters Bone Broth, bay leaves, 1 tablespoon salt, and 1 teaspoon pepper and bring to a boil.
Lower the heat and simmer, partially covered, for 1 hour and 30 minutes, until the beans are tender. Stir occasionally, scraping the bottom of the pot.
Discard the bay leaves, cover the pot, and allow the soup to sit off the heat for 15 minutes. Add up to 2 more cups of chicken stock if the soup is too thick. If you want a thicker, creamier soup, use a stick blender, pulsing for about 2-3 minutes.
Reheat slowly, ladle into large shallow soup bowls, sprinkle with Parmesan cheese, drizzle with olive oil, and serve hot.
FOR CANNED BEANS:
Use 2 (14-ounce) cans of white cannellini beans. Drain the beans, reserving the liquid. Place 1 cup of the beans and ½ cup of the liquid into the bowl of a food processor fitted with the steel blade and puree. When ready to add the beans in the recipe, stir in the puree and add the remaining drained beans (discard the remaining liquid).
Use only 6 cups of chicken stock.
Simmer the soup for 45 minutes, rather than 1 hour and 30 minutes. Notes: To reheat a second day, you'll need to add some water, salt, and pepper.